For sales inquiries,
please contact us at:


sales@thecus.com
For marketing inquiries, please contact us at:


marketing@thecus.com
2007-06-11
"A well built single drive NAS appliance"

06/11/2007 – More and more people are looking for ways to easily enjoy their various types of digital media around the house. Now, with the N1200 from Thecus Technology, sharing digital media has never been easier or more convenient. The folks at Trusted Reviews recently took a close look and the one-bay wonder, and were very impressed with the results.
Installation and setup of the N1200 couldn't be easier: "Hard disk installation is simple enough as you remove a couple of small screws on the chassis and slide the top panel back. The drive needs to be fitted on the supplied aluminium tray and slid into place on top of the motherboard so it mates with the surface mounted SATA interface. The tray has three extra screw holes on its base to enable smaller 2.5in drives to be fitted. Appliance installation kicks off by connecting its WAN port to the network and loading the bundled Setup Wizard. This locates it on the network and steps through initializing a new hard disk with Thecus' Linux based OS, configuring network parameters and securing administrative access."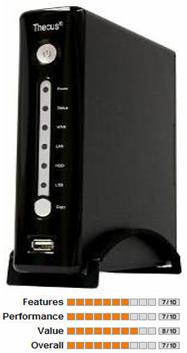 The N1200 is great for streaming media: "The appliance incorporates an iTunes server for sharing music with other iTunes clients. To use it you just activate the service and copy your music files to the predefined folder. We changed our client preferences to point to the N1200 and could then import CDs directly to this location. There are more streaming services on the menu as you also get Mediabolic's media server allowing the N1200 to dish up multimedia content to any DLNA (Digital Living Network Alliance) compliant player device."
The conclusion: "A well built single drive NAS appliance with a fine range of multimedia related features..."
For the full review, go to:
http://www.trustedreviews.com/networking/review/2007/06/04/Thecus-N1200/p1
For more information on the Thecus N1200, check out:
http://www.thecus.com/products_over.php?cid=1&pid=24
For more information on Thecus, go to: http://www.thecus.com
---
About Thecus
Thecus® Technology Corp. specializes in IP Storage Server solutions, including Network Attached Storage (NAS) and Wireless Media Bank products. The company was established in 2003 with the mission to make technology as transparent and easy-to-use as possible, and to make products that are not only the best on the market, but are accessible to experts and novices alike. With a best-in-class R&D team highly experienced in storage hardware and software and with a keen customer focus, Thecus® stays close to the market to develop high-quality products to fulfill the storage needs of today's world.
For more information, please visit the Thecus® website at: http://www.thecus.com
For sales and other inquiries, please contact us via email: sales@thecus.com