For sales inquiries,
please contact us at:


sales@thecus.com
For marketing inquiries, please contact us at:


marketing@thecus.com
2011-07-26
Say goodbye to downtime!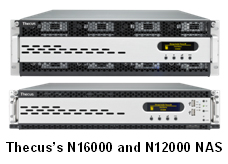 07/26/2011- When putting together a NAS system for your company, whether it's internal storage and backup, web serving, FTP serving, or any of many other possible uses, having constant access is always of vital importance. As any webmaster or even web-browsing user knows, downtime can be a killer. When your data isn't available, there may be employees who can't get to key files on your company NAS, partners who can't access essential updates and apps, and even customers who are forced to go to your closest competitor. To keep these disasters at bay, many tactics have been adopted to keep your data within reach as much as possible, and High Availability NAS cloning (HA) brings your downtime as close to zero as possible.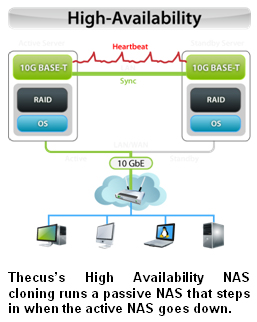 HA, available on the Thecus® 16-bay N16000 and 12-bay N12000 NAS, is the ultimate data access fail-safe. Running two NAS side by side, HA keeps both up to date and ready to run any and all data functions. These NAS clones automatically synchronize their contents through a "Heartbeat" connection. If one NAS has a problem, not only will you be able to fix it without data loss using the protection of RAID and other Thecus® backup methods, the healthy backup NAS will take the reins and ensure continuous data service even in the face of hardware failure. Thecus® knows that enterprise data storage cannot afford even a minute of downtime and delivers advanced, professional solutions like High Availability.
For more information on the Thecus® N16000, please go to:
http://www.thecus.com/product.php?PROD_ID=45
For more information on the Thecus® N12000, please go to:
http://www.thecus.com/product.php?PROD_ID=44
---
About Thecus®
Thecus® Technology Corp. specializes in IP Storage Server and Network Video Recorder solutions. The company was established in 2004 with the mission to make technology that is as transparent as it is easy-to-use and products that are not only the best on the market, but are accessible to experts and novices alike. Combining a world-class R&D team highly experienced in storage hardware and software development with a keen customer focus, Thecus® stays close to the market to develop high-quality products to fulfill the storage and surveillance needs of today's world.
For sales inquiries, please contact us via email: sales@thecus.com
For marketing inquiries, please contact us via email: marketing@thecus.com