For sales inquiries,
please contact us at:


sales@thecus.com
For marketing inquiries, please contact us at:


marketing@thecus.com
2007-06-01
"High capacity, countless features, at an affordable price"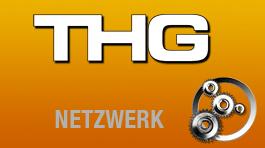 06/01/2007 – With the need for digital storage escalating, users everywhere are looking for devices that will efficiently store their precious. However, an increasing number of users also want to share and distribute their digital media in an easy and intuitive way. Enter the N1200 from Thecus Technology. Accommodating a full-sized 3.5" SATA hard disk, the N1200 is more than just a simple data backup solution. It comes packed with a collection of features, designed to make the digital lifestyle easier and more convenient. Hardware authority Tom's Hardware Guide took the N1200 for a test drive and paired it with a 1TB (1000GB) hard drive from Hitachi. After a gauntlet of rigorous tests, the N1200 true colors came shining through, offering users "high capacity, countless features, at an affordable price."
Tom's Hardware was impressed with how easy it was to set up with its step-by-step setup wizard and easy-as-pie web-based user interface. No fiddling with proprietary software programs just to access your data. The N1200 is accessible from any browser, making it convenient for PC, Mac, and Linux users.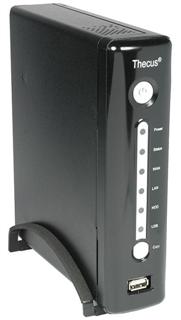 But the N1200 is so much more than an external hard disk box. The N1200 comes loaded with several useful functions. Its Media Server allows users to share their digital media files anywhere on the network, and also with DLNA-ready home entertainment devices. The Photo Gallery makes it easy to share precious memories over the network, while the Download Manager allows scheduling of BT, HTTP, and FTP downloads during off-peak hours for time, bandwidth, and energy savings. What's more, the Thecus Backup Utility makes backup a breeze. Tom's Hardware also found its write performance remarkable.
The conclusion: "Currently, for those who want to have more than just a simple backup storage solution, you should not miss the unbeatable combination of a Thecus N1200 NAS device with its Media Server and nice extra features, and the Hitachi 7K 1000."
For the full review, check out:
http://netzwerk.thgweb.de/2007/05/04/nas_thecus_hitachi_festplatte_terabyte/
For more information on the Thecus N1200, check out:
http://www.thecus.com/products_over.php?cid=1&pid=24
For more information on Thecus, go to:
http://www.thecus.com
---
About Thecus
Thecus® Technology Corp. specializes in IP Storage Server solutions. The company was established in 2004 with the mission to make technology as transparent and easy-to-use as possible, and to make products that are not only the best on the market, but are accessible to experts and novices alike. With a best-in-class R&D team highly experienced in storage hardware and software and with a keen customer focus, Thecus® stays close to the market to develop high-quality products to fulfill the storage needs of today's world.
For more information, please visit the Thecus® website at: http://www.thecus.com
For sales and other inquiries, please contact us via email: sales@thecus.com