For sales inquiries,
please contact us at:


sales@thecus.com
For marketing inquiries, please contact us at:


marketing@thecus.com
2007-06-01
Robust hardware, performance, and features win over editors

06/01/2007 – When it comes to digital storage, there are numerous solutions out there. However, with robust hardware, strong performance, and a laundry list of features, it's hard to beat Thecus' line of digital storage solutions. It's N1200, a one-bay wonder with a built-in 4-port switch, 1TB storage capacity, and a number of useful functions, was recently tested by the editors of PC World Norway. In the end, the N1200 won editors over with its all-round performance, feature set, and competitive pricing.
PC World Norway was impressed with the N1200's 4-port switch with DHCP functionality. They noted that users can use the N1200 to backup data overa USB, and a possible wireless option makes the N1200 even more convenient. What's more, the built-in USB port allows users to connect their USB storage devices, such as USB disks, cameras, and hard disks directly to the unit.
Performance wise, the N1200 did not disappoint, with PC World Norway citing that its transfer speeds were as fast or even faster than some of the 2-bay solutions they tested – even in RAID 0! Editors noted that the Gigabit Ethernet on the N1200 helped a lot in performance testing, yielding transfer speeds between 10 and 13MB/s.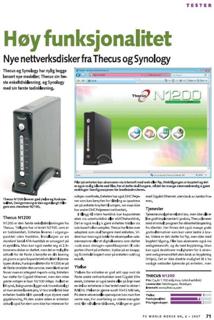 In terms of features, the N1200 comes with FTP and HTTP support. Users can also disable HTTP connections for added security. The N1200 also comes with a Photo Server, an iTunes® Server, and support for uPnP and Mediabolic® DLNA devices. In addition, the Download Manager even supports BT, HTTP, and FTP downloads through the web user interface.
Final Rating: Performance: 8
Features: 7
Price: 8
For the full review, check out the June 2007 issue of PC World Norway.
For more information on the Thecus N1200, check out:
http://www.thecus.com/products_over.php?cid=1&pid=24
For more information on Thecus, go to:
http://www.thecus.com
---
About Thecus
Thecus® Technology Corp. specializes in IP Storage Server solutions. The company was established in 2004 with the mission to make technology as transparent and easy-to-use as possible, and to make products that are not only the best on the market, but are accessible to experts and novices alike. With a best-in-class R&D team highly experienced in storage hardware and software and with a keen customer focus, Thecus® stays close to the market to develop high-quality products to fulfill the storage needs of today's world.
For more information, please visit the Thecus® website at: http://www.thecus.com
For sales and other inquiries, please contact us via email: sales@thecus.com