For sales inquiries,
please contact us at:


sales@thecus.com
For marketing inquiries, please contact us at:


marketing@thecus.com
2011-07-19
How and why to create a virtual SAN with Thecus NAS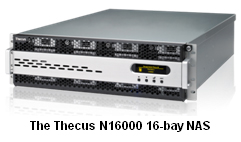 07/19/2011- Thecus's enterprise NAS, the 12-bay N12000 and the 16-bay N16000, have recently received VMware iSCSI Certification. VMware provides a great way to connect storage devices via a virtual machine platform and iSCSI provides the backbone to channel this functionality. With this type of setup, businesses can manage many types of data and applications without the waste of having many servers, each focused on their own task.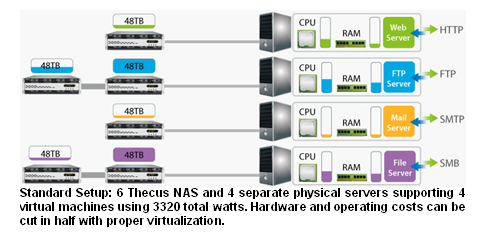 The Thecus N12000 and N16000 house up to a raw capacity of 36 and 48 terabytes, respectively. Companies dealing with this level of data requirements often have a wide range of services they need to provide, from internal data sharing to web serving to data backup. Virtual storage space can be managed in a multitude of ways with VMware: equally distributing data capacity between various services, creating flexible storage spaces that will expand and contract based on need, consolidating all the storage space, and many more.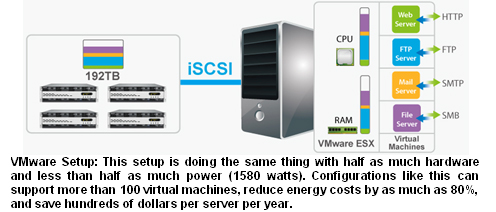 Virtualized environments such as this make full use of the resources available. Because processors are more powerful relative to our needs than ever before and RAM and storage capacity are the cheapest they've ever been, it is no longer necessary to devote one processor with a set amount of RAM and capacity to one task alone. Where four physical machines providing mail serving, web serving, FTP serving, and file sharing may each use 1/10 of their processing power, 1/8 of their RAM, and 1/5 of their data capacity, one of those physical machines housing four virtual machines in a VMware ESX environment would use those resources much more efficiently, saving on the cost of machinery and an enormous amount of power. An additional advantage of this setup is that when your data nearly fills its capacity, expansion is as simple as buying more storage with no need to change or replace the system.
Thecus's VMware iSCSI Certification on the N16000 and N12000 means that there are now two new expansive, powerful, and affordable solutions for companies that already have virtualized data centers and those that are starting to realize the benefits of this setup. As data systems become larger and more complex, the importance of consolidation, simplification, efficiency, and energy conservation will continue to grow.
For more information on the Thecus N16000, go to:
http://www.thecus.com/product.php?PROD_ID=45
For more information on the Thecus N12000, go to:
http://www.thecus.com/product.php?PROD_ID=44
For more information on VMware, go to: http://www.vmware.com/
---
About Thecus®
Established in 2004, Thecus Technology Corp provides market leading network attached storage and network video recorder solutions, committed to revolutionize how everyone from home user to enterprise level business centrally stores, manages and accesses their digital data both onsite and cloud-based. Thecus strives to deliver continuous innovation through cutting edge technology and design to provide data storage with the most customer-friendly platform, rapid performance and robust security. In May 2016, Thecus was formally acquired by Ennoconn Corporation and thus became part of the Foxconn IPC Technology group. Partnered together this diverse group of companies work in tandem to provide a total IoT (Internet of Things) solution. Now with an unparalleled portfolio to work with, Thecus is collaborating to bring unprecedented change to the network storage industry.