For sales inquiries,
please contact us at:


sales@thecus.com
For marketing inquiries, please contact us at:


marketing@thecus.com
2011-07-18
"…a powerful little NAS with lots of features and many possibilities."

07/18/2011 – Hardware Test Portal put the screws to the Thecus N4200PRO and got a lot more than they bargained for. After a 7-page review exploring nearly every aspect of the NAS, the conclusion was an emphatically positive response and a glowing recommendation. HWT gave the N4200PRO the "Product of the Year Gold Award" for a wealth of features, the mini-UPS backup battery, industry-leading performance, excellent UI design, and great value.
HWT.dk knew what they were getting into: "N4200Pro is a powerful little NAS with lots of features and many possibilities. A server targeted at small businesses and discerning home users. For me, Thecus has always been among the big boys in the class when it came to NAS servers, and I must admit that I was glad to get their hands on the little box to see if it lived up to my expectations."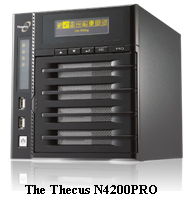 The Web Disk makes things easy enough for grandma: "Web Disk is a file browser, [my colleague] tested remote access to the machine for me. Flawless! No more messing with FTP or VPN. An IP, a username, and a password are all it takes to access all your files s o you can show grandma how to [use it]. It's better than DropBox, because it can all be done from the browser, there are the features you want and it works out-of-the-box."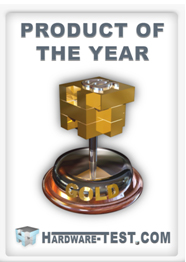 The UI is well designed: "On the main menu you get shown the most commonly used configuration options. The int erface is subdued and very intuitive. Menu items are well designed and easy to navigate, and there is everything needed to put the server to work."
The Thecus-exclusive mini-UPS is a great innovation: "One of the things that stands out on this box is the built-in mini-UPS… [It is a] Very useful feature and the best way to ensure that the RAID setup will not be corrupt or important files lost during power failures."
The help menu is a great tool: 
"One of the first things I looked for was a manual for the web interface and setup. But then I discovered that for each item had an explanation in the help menu. This is obviously another big plus for this NAS."
Top performance to boot: 
"Because the speeds maxes out the Gbit bandwidth, the N4200Pro is clearly at the top compared to what one else may find in this price range. Almost 120 MB/s was way more that I had expected and even at non-synthetic use speeds peaks at 110 MB/s. A well deserved top-rating to the N4200Pro for fantastic performance."
Functionality, performance, and value capped it off to earn the "Product of the Year Gold Award": "Besides a great web interface and a lot of good features the N4200Pro performs very well. This box is easy to use and covers a wide set of requirements. Because of flexibility and performance and security and the many features of this machine, it is very suitable for small buisness use. The N4200Pro is definitely an attractive home server for the more demanding consumer…It is possible to acquire a NAS with room for 4 disks [for a lower price], but then one would only get a fraction of the features compared to the N4200Pro. You get incredible value for money if you compare with other machines in its class."
See the full review here:
http://hwt.dk/LiteratureDetails.aspx?LiteraturePageID=31035
For more information on the N4200PRO, check out:
http://www.thecus.com/product.php?PROD_ID=41
---
About Thecus®
Established in 2004, Thecus Technology Corp provides market leading network attached storage and network video recorder solutions, committed to revolutionize how everyone from home user to enterprise level business centrally stores, manages and accesses their digital data both onsite and cloud-based. Thecus strives to deliver continuous innovation through cutting edge technology and design to provide data storage with the most customer-friendly platform, rapid performance and robust security. In May 2016, Thecus was formally acquired by Ennoconn Corporation and thus became part of the Foxconn IPC Technology group. Partnered together this diverse group of companies work in tandem to provide a total IoT (Internet of Things) solution. Now with an unparalleled portfolio to work with, Thecus is collaborating to bring unprecedented change to the network storage industry.