For sales inquiries,
please contact us at:


sales@thecus.com
For marketing inquiries, please contact us at:


marketing@thecus.com
2011-07-12
With two awards and the lowest price in the group, Thecus® wins big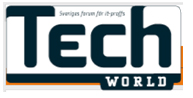 07/12/2011 – In the ultra competitive world of mid-range enterprise/large SMB NAS, the technology is moving very fast. Thecus has entered this industry only recently, applying the know-how gained from years of experience in the SMB NAS market. Of their first two entries into this market, the N12000 and the N16000, Techworld included the 12-bay NAS in their recent group test. After a little head-to-head sparring with the 12-bay Netgear NAS, the N12000 beat out the competition and landed squarely on its feet, receiving a "Recommended" award and the coveted "Green IT" award for the lowest power consumption at a meager 130 watts. Also, being the lowest priced model in the competition, it would have garnered the "Economy NAS" award had there been one!

So these two juggernauts are battling it out; who has the upper hand?: "We believe that the management systems of the Netgear and Thecus are equivalent and the best of the Linux-based systems. Both are web based, easy to navigate, with logical menu systems and function names. These systems should not cause any problems for anyone."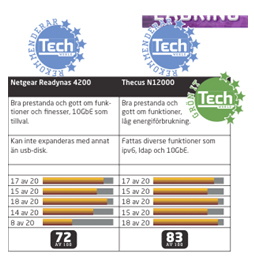 Additional functions such as more RAID options and iSCSI thin-provisioning provide a clue: "The tough game of the match between Netgear and Thecus continues in this round, and here gives Thecus a notch higher scores. Overall, there is a little bit more to tune in on than in NETGEAR's products, such as more types of RAID levels and thin provisioning for iSCSI volumes. But both are really good, Netgear and Thecus are the leading products in their category and price range."
The N12000's stacking function and 10GbE support allows for unparalleled expansion: "What do you do if you've filled a sink to the brim? Yes, if you fill up a Netgear or Iomega you may have to buy a new box and manage it as a separate unit. Thecus has a stacking feature that gives you up to 72 drives (up to six boxes) in the same administrative unit, and, for that very reason if nothing else, Thecus had good measure to support 10 gigabit Ethernet."
Thecus's open source add-on module system is a clear advantage in the UI: "There are a number of modules with additional features that can be added to those already existing, especially in the case of the Thecus,..In Thecus's administration interface, Thecus would seem to have little more to offer than the Netgear. Add to that a wide range of modules that can be downloaded from the Thecus website. Good."
The end result was two awards for Thecus and 11 points higher than the Netgear out of 100: "Good performance and plenty of features, low power consumption."

See the full review in the April edition of Techworld.se Magazine.
For more information on the N12000, check out:
http://www.thecus.com/product.php?PROD_ID=44
---
About Thecus®
Established in 2004, Thecus Technology Corp provides market leading network attached storage and network video recorder solutions, committed to revolutionize how everyone from home user to enterprise level business centrally stores, manages and accesses their digital data both onsite and cloud-based. Thecus strives to deliver continuous innovation through cutting edge technology and design to provide data storage with the most customer-friendly platform, rapid performance and robust security. In May 2016, Thecus was formally acquired by Ennoconn Corporation and thus became part of the Foxconn IPC Technology group. Partnered together this diverse group of companies work in tandem to provide a total IoT (Internet of Things) solution. Now with an unparalleled portfolio to work with, Thecus is collaborating to bring unprecedented change to the network storage industry.