For sales inquiries,
please contact us at:


sales@thecus.com
For marketing inquiries, please contact us at:


marketing@thecus.com
2007-05-30
Digital storage devices make a splash at leading ICT show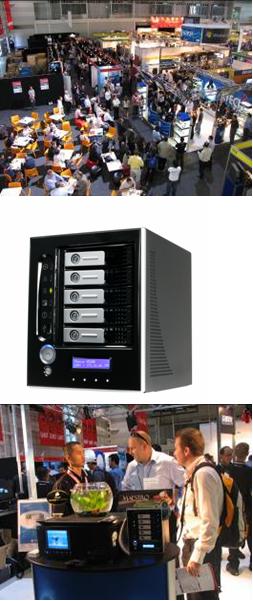 05/30/2007 – Now in its sixth year, CeBIT Australia is the leading ICT show in Australasia. Held at the Sydney Exhibition and Convention Centre from May 1st to 3rd, over 33,000 visitors browsed the latest IT solutions from over 700 exhibitors, representing a 10% increase from the previous year. Thecus Technology, a leading provider of digital storage solutions, was there to display its latest NAS storage devices in association with distributor Altech Computers.
The show was a tremendous success. Positioned in a prime location, the Altech/Thecus booth experienced very heavy traffic, with many visitors inquiring about the N5200, Thecus' 5-bay high-performance storage server. The N5200 comes with a storage capacity of 5TB, and includes many advanced features for users who demand a massive storage capacity and speedy performance. Visitors praised the N5200 for its 4-port switch and multiple-RAID support, saying that the N5200 was good value for money.
"CeBIT Australia was an excellent opportunity for us to demonstrate the power and flexibility of Thecus products," notes Thecus Technology General Manager Florence Shih. "We are looking forward showing off our very latest products once again at next year's show."
For more information on Altech Computers, go to: http://www.altech.com.au/

For more information on Thecus, go to: http://www.thecus.com
---
About Thecus

Thecus® Technology Corp. specializes in IP Storage Server solutions. The company was established in 2004 with the mission to make technology as transparent and easy-to-use as possible, and to make products that are not only the best on the market, but are accessible to experts and novices alike. With a best-in-class R&D team highly experienced in storage hardware and software and with a keen customer focus, Thecus® stays close to the market to develop high-quality products to fulfill the storage needs of today's world.
For more information, please visit the Thecus® website at:
http://www.thecus.com
For sales and other inquiries, please contact us via email:
sales@thecus.com