For sales inquiries,
please contact us at:


sales@thecus.com
For marketing inquiries, please contact us at:


marketing@thecus.com
2007-06-01
Simple storage solutions set to debut at Asia's largest tech show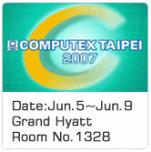 06/01/2007 – Summer is almost here, and that means only one thing: Computex Taipei, Asia's largest technology trade show, is approaching. From June 5th to 9th, over 130,000 visitors are expected to attend this monster event, which features over 2,900 exhibitors showing off a multitude of the latest tech gear. As always, Thecus Technology, leading manufacturer of simple and secure storage solutions, will be there to wow crowds with their latest and greatest storage products.
This year, Thecus is launching two exciting products targeting home users. First off is the Thecus N3200, the world's first home NAS with RAID 5. This three-bay storage device is perfect for home users who demand the extra security and performance of a RAID 5 array in a compact and manageable form factor. The N3200 comes equipped with a plethora of useful functions, including an iTunes® Server, Media Server, Download Manager, and more. For those who demand massive storage capacity with blazing performance, Thecus will also be launching a 5-bay DAS device, the D5100. Users won't have to wait around for data with its speedy eSATA port, and support for RAID 0, 1, 5, 6, 10 and JBOD means that D5100 users can choose the RAID level that best suits their needs.
Of course, business users won't be left out in the cold at Computex 2007. Thecus has new products designed for business use, starting with the five-bay N5200PRO. A follow-up to its best-selling N5200 NAS Server, the N5200PRO ups the ante with a processor and memory bump for even faster response and data processing power. The N5200PRO also supports multiple RAID, which allows users to use multiple RAID levels on a single device. What's more, dual mode support enables servers to access the N5200PRO as a DAS over the USB. For business users requiring a rackmount solution, Thecus will also have its 1U4500 Rackmount Storage Server on display. The 1U4500 features four hot-swappable hard disk trays that accept standard 3.5" SATAII hard disks for up to 4 terabytes of storage.
One of the hottest new developments is iSCSI. This network protocol allows unparalleled transfer speeds over TCP/IP networks, allowing remote systems to access iSCSI storage devices as if they were directly installed. The result is lightning-quick transfer speeds over conventional networks. Thecus Technology has embraced iSCSI, and its new NAS products, including theN5200PRO and 1U4500, will be iSCSI ready, ensuring that Thecus users will be ready for this emerging technology.
"We are thrilled to be introducing these new products to the world at Computex 2007," says Thecus General Manger Florence Shih. "Characterized by outstanding performance, robust functionality, and exciting product design, these new products will once again represent Thecus' innovation and commitment to excellence. We look forward to demonstrating our latest storage solutions to everyone at this year's Computex."
Visit Thecus Technology at the Grand Hyatt Hotel, Room No. 1328.
For more information on Thecus, go to: http://www.thecus.com
---
About Thecus
Thecus® Technology Corp. specializes in IP Storage Server solutions. The company was established in 2004 with the mission to make technology as transparent and easy-to-use as possible, and to make products that are not only the best on the market, but are accessible to experts and novices alike. With a best-in-class R&D team highly experienced in storage hardware and software and with a keen customer focus, Thecus® stays close to the market to develop high-quality products to fulfill the storage needs of today's world.
For more information, please visit the Thecus® website a:
sales@thecus.com
For sales and other inquiries, please contact us via emai: marketing@thecus.com