For sales inquiries,
please contact us at:


sales@thecus.com
For marketing inquiries, please contact us at:


marketing@thecus.com
2007-05-21
"Ethernet connectivity, great redundancy and massive capacity"

05/21/2007 –The 1U4500 Rackmount NAS Server from Thecus is not only a top performer, but also very easy to use and install. Boston UK recently took a look at the 1U4500, and put to a very comprehensive review that goes through the complete installation process. All in all a very good read for those interested in obtaining the 1U4500 for their business.
The 1U4500 features strong design: "The Thecus 1U4500 comes in a silver coloured chassis with a mixed black and silver front bezel. The chassis features 4 hotswap drive bays which open and close smoothly but are also individually lockable. In front of the first drive bay there is also a digital LCD display that displays time, date and array activity. This LCD display can be controlled via four buttons situated at the front of the chassis and allows the administrator to configure networking settings and read logs without the need to enter the management interface. In order to get access to the first drive bay the LCD display can be flipped up and out of the way. LED's on the systems front bezel also show you power, network activity and system busy notification."
It is also as easy to install as it is to use: "As the unit arrives fully built you simply have to install hard disks and configure the units including software. This just involves screwing the HDD's in to the hotswap drive bays and then slotting the caddies in to the chassis. It does not require any cabling. With the HDD installed the Thecus 1U4500 is now ready to power on and configure. The configuration process firstly involves connecting the Thecus 1U4500 to your network via an Ethernet cable. Once the unit is connected to your network you can start to configure the system for your specific needs. The 1U4500 is a NAS box; therefore it doesn't require any software as such. All of its features are programmed into its own firmware. That said, Thecus provide the unit with a CD-ROM which contains a highly detailed user manual and a utility for quick installation."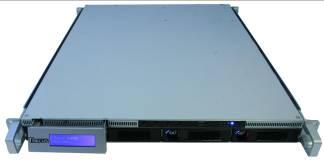 For the full review, go to:
http://www.boston.co.uk/stuff/reviews/110507-1/Default.aspx
For more information on the 1U4500, go to:
http://www.thecus.com/products_over.php?cid=1&pid=26
For more information on Thecus, go to:
http://www.thecus.com
---
About Thecus
Thecus® Technology Corp. specializes in IP Storage Server solutions. The company was established in 2004 with the mission to make technology as transparent and easy-to-use as possible, and to make products that are not only the best on the market, but are accessible to experts and novices alike. With a best-in-class R&D team highly experienced in storage hardware and software and with a keen customer focus, Thecus® stays close to the market to develop high-quality products to fulfill the storage needs of today's world.
For more information, please visit the Thecus® website at: http://www.thecus.com
For sales and other inquiries, please contact us via email: sales@thecus.com