For sales inquiries,
please contact us at:


sales@thecus.com
For marketing inquiries, please contact us at:


marketing@thecus.com
2011-05-04
The freedom and customization of open source software for all Thecus users

05/04/2011 – Thecus has always been very proud of its hardware. However, their components are getting very, very powerful and offer users almost unlimited possibilities. Thanks to many partners' feedback (users, journalists, distributors, etc.) Thecus has come along with their newest project: the Thecus Software Development Kit (SDK). The beta version is already available.
What is the Thecus module system?
Basically, it's very similar to a smartphone apps system, but for your NAS! Browse directly from your NAS among official modules or download the one you want from a third party website. You can then install, uninstall, or upgrade it in a couple of clicks thanks to the new V5 auto module installation page.
This module system has been designed to maximize the number of available functions while minimizing the load: just install whatever you need and your NAS will possesses exactly what you asked for! No more, no less. Available modules can already unlock several excellent NAS functions: the Piczza! photo server, a WebDisk client, the Transmission Bittorrent client, a mail server, and many more.
What's the Thecus SDK?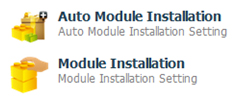 Even if Thecus is developing a dozen official – and free – modules, a single company can't match the infinite innovative potential of the whole Thecus community. The Thecus SDK includes a lot of useful tools that can be used by developers in order to code their own modules for Firmware V5 and above. It includes a toolchain, guides for beginners and experts, example code, and a framework from which to build.
This SDK is currently in an open beta phase and will be evolving thanks to your feedback!
How is Thecus going to support the community?

Sharing is valued very highly by Thecus. A dedicated forum for developers has been set up where Thecus engineers and the development community will be abe to communicate their questions and suggestions. It will be a priority to improve the SDK according to users' feedback in order to guarantee ease-of-use and efficiency. Finally, Thecus will organize events in order to promote and support this community. A little bird told me that a big module design competition is going to be launched around the same time as a certain international electronics show in Taipei…
Take a first-hand look at the SDK: http://ftp.thecus.com/module
Browse the forum for more information: http://forum.thecus.com/viewforum.php?f=36
---
About Thecus®
Established in 2004, Thecus Technology Corp provides market leading network attached storage and network video recorder solutions, committed to revolutionize how everyone from home user to enterprise level business centrally stores, manages and accesses their digital data both onsite and cloud-based. Thecus strives to deliver continuous innovation through cutting edge technology and design to provide data storage with the most customer-friendly platform, rapid performance and robust security. In May 2016, Thecus was formally acquired by Ennoconn Corporation and thus became part of the Foxconn IPC Technology group. Partnered together this diverse group of companies work in tandem to provide a total IoT (Internet of Things) solution. Now with an unparalleled portfolio to work with, Thecus is collaborating to bring unprecedented change to the network storage industry.