For sales inquiries,
please contact us at:


sales@thecus.com
For marketing inquiries, please contact us at:


marketing@thecus.com
2007-05-01
"Overall a fantastic product"

05/01/2007 –The YES Box N2100BM from Thecus is truly a friendly yet powerful NAS storage device. Recently, the editors at TechSpot took the N2100 for a spin, and were very impressed with the results!
TechSpot begins by discussing the internals of the YES Box N2100: "Open up the case and you will quickly begin to understand how technical and powerful the N2100 is, featuring an Intel IOP 80219 processor with 128MB of DDR memory. The large PCB board also features dual Realtek RTL8110 Gigabit LAN controllers and a small amount of flash memory. There is also a laptop PCI slot which is designed to add wireless support to the N2100."
Installation is as easy as pie: "The hard drive bay is connected to the PCB using what looks much like a PCI Express 4x slot. Installing the Serial ATA hard drives into the drive bay could not have been any easier. The drives slot in and have to be fastened with a number of supplied screws. Furthermore, the user's manual is also very well detailed (for the installation procedure) and includes a number of high quality images."
The conclusion: "The N2100 Y.E.S. Box is a fantastic product and although it's not completely perfect, it is about as close as we have seen network storage get for home users. The N2100 is essentially a dedicated file server with its own processor, memory and custom case…The good news is hard drives are surprisingly cheap these days, with a pair of Seagate Barracuda 7200.10 500GB drives costing just $260. This means that for under $600 you can build a dedicated terabyte server that could fit in a shoe box!...Overall the N2100 is a fantastic product that should certainly be considered by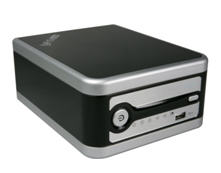 anyone looking at serious network storage."
For the full review, check out:
http://www.techspot.com/review/48-thecus-2100-yes-box/
For more information on the Thecus YES Box N2100, go to:
http://www.thecus.com/products_over.php?cid=1&pid=1
For more information on Thecus, please visit the official website:
www.thecus.com
---
About Thecus

Thecus® Technology Corp. specializes in IP Storage Server solutions. The company was established in 2004 with the mission to make technology as transparent and easy-to-use as possible, and to make products that are not only the best on the market, but are accessible to experts and novices alike. With a best-in-class R&D team highly experienced in storage hardware and software and with a keen customer focus, Thecus® stays close to the market to develop high-quality products to fulfill the storage needs of today's world.
For more information, please visit the Thecus® website at:
http://www.thecus.com
For sales and other inquiries, please contact us via email:
sales@thecus.com