For sales inquiries,
please contact us at:


sales@thecus.com
For marketing inquiries, please contact us at:


marketing@thecus.com
2007-04-23
1U4500 and N5200 take top honors in performance testing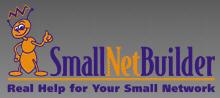 04/23/2007 – Thecus Technology has been developing high-performance storage servers since its inception. Two of its latest products, the 1U4500 Rackmount Storage Server and the N5200 5-bay High-Performance Storage Server, follow this legacy. SmallNetBuilder recently compared the performance of various NAS solutions, and while the competition was numerous, none could hold a candle to Thecus' industry-leading performance. After comparing the 1000Mbps average write performance of nearly two dozen NAS devices, Thecus' 1U4500 and N5200 shot straight to the top, more than doubling the performance of the leading competitor!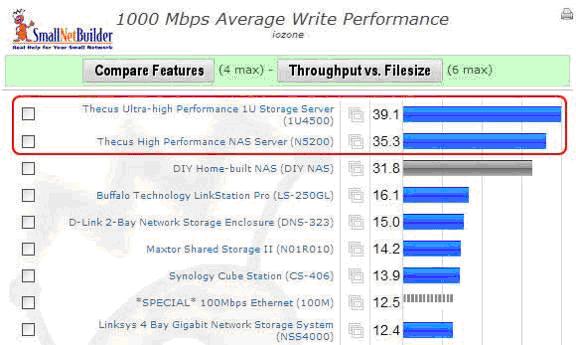 To see the entire chart, go to:
http://smallnetbuilder.com/component/option,com_nas/Itemid,190/chart,12/
For more on Thecus, check out the official website:
http://www.thecus.com
---
About Thecus
Thecus® Technology Corp. specializes in IP Storage Server solutions. The company was established in 2004 with the mission to make technology as transparent and easy-to-use as possible, and to make products that are not only the best on the market, but are accessible to experts and novices alike. With a best-in-class R&D team highly experienced in storage hardware and software and with a keen customer focus, Thecus® stays close to the market to develop high-quality products to fulfill the storage needs of today's world.
For more information, please visit the Thecus® website at: http://www.thecus.com
For sales and other inquiries, please contact us via email: sales@thecus.com