For sales inquiries,
please contact us at:


sales@thecus.com
For marketing inquiries, please contact us at:


marketing@thecus.com
2007-03-12
Combining storage and network connectivity for all-in-one functionality

03/12/2007 – With the growing popularity of digital media such as pictures, music, and movies, our needs for storage are greater now more than ever. Having our computers networked together while expanding storage capacity usually means going out, buying a NAS solution, getting a router, hooking them up, configuring both devices, and hoping everything works the way we intended. Wouldn't it be great to have one device that fulfills both our needs for storage and networking? With Thecus RouStor™ Technology, now you can.
Thecus RouStor Technology combines Thecus' proven NAS technology with a network switch in a single unit. The result is a highly flexible and complete networking and storage solution that is not only powerful, but easy to set up and use.
Simply configure the unit, hook up your network PCs, and enjoy a fast and stable network with shared storage. Share files with every computer on the network. Schedule backups for each computer and have them store them in a shared external location. With the seamless integration of storage and networking of RouStor™, you can have your network connected with shared storage capability faster and easier than ever before.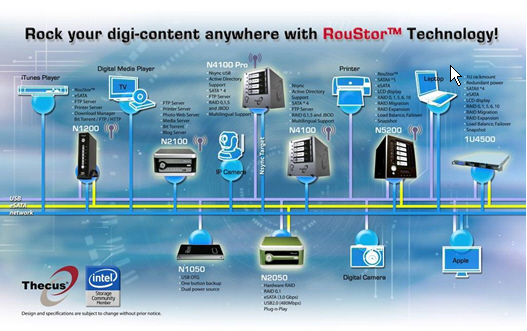 5 Big Advantages
Faster Performance
Thecus' RouStor-enabled devices combine SATA storage with a built-in switch. With a shorter distance to travel between storage and the client PCs, data can travel to its intended destination faster, resulting in faster data transfer performance.
Easier Setup
Why set up your storage and your network with two different devices? With RouStor, you can mange your network and your network storage all from a single device, saving you time and effort.
Space Savings
Keep your workspace free from excess clutter. By integrating a switch directly into the unit, Thecus RouStor-enabled storage devices take up much less room than competing discrete storage and networking solutions.
Guaranteed Interoperability
With RouStor, there's no worry about hardware incompatibility. By having both storage and switching in one unit, you can be sure that everything works the way it's supposed to.
Lower Costs
Thecus' RouStor Technology gives you more. Why bother with the added expense of separate storage and router solutions? With RouStor, you can have both storage and networking functionality with a single unit.
Thecus RouStor™ Series
| | | |
| --- | --- | --- |
| SKU # | Description | Availability |
| N1200 | 1-bay NAS with RouStor Technology | Now |
| N5200 | Powerful 5-bay Enterprise NAS | Now |
| 1U4500R | 1U rackmount storage server with redundant power supply | Now |
| 1U4500S | 1U rackmount storage server standard power supply | Now |
For more information on Thecus, go to:
---
About Thecus
Thecus® Technology Corp. specializes in IP Storage Server solutions. The company was established in 2004 with the mission to make technology as transparent and easy-to-use as possible, and to make products that are not only the best on the market, but are accessible to experts and novices alike. With a best-in-class R&D team highly experienced in storage hardware and software and with a keen customer focus, Thecus® stays close to the market to develop high-quality products to fulfill the storage needs of today's world.
For more information, please visit the Thecus® website at: http://www.thecus.com
For sales and other inquiries, please contact us via email: sales@thecus.com