For sales inquiries,
please contact us at:


sales@thecus.com
For marketing inquiries, please contact us at:


marketing@thecus.com
2007-02-06
Outstanding capacity, features, and ease-of-use win over editors
02/06/2007 – Capable of 3.75 terabytes of storage and packed with extensive data security features, the N5200 five-bay NAS device from Thecus Technology is an ideal network data storage solution for enthusiasts and SMBs. Chip Magazine recently brought the N5200 under the microscope, and after a series of tests, praised it for its features, ease-of-use, and outstanding capacity.
Chip Magazine begins by looking at some of the N5200's key features: "Net disk servers must offer more than data sharing, and so must the N5200. A detailed description of all its functions and their list would take a lot of pages so we are mentioning only the main ones. The interface contains the complete administration of users and groups including authorization for individual components such as FTP, and a very interesting storage featured called Nsync. Nsync automatically stores your chosen data to a remote FTP server which can be also another N5200 server."
Data security is one of the key features of the N5200: "RAID provides a high level of security. Furthermore, if you use RAID 5, the integrated hot spare function enables the fifth disk as a storage buffer. Then, if there is a hard disk failure, the missing data can be transported to the storage disk immediately. You do not have to worry about downtime in case of disk failure."
Advanced features don't have to be complicated: "All the settings including the complete administration of the device is carried out over a web interface. The number of server functions is large and the settings can be managed by less knowledgeable users. The advantage is that for those without knowledge of server operating systems can use the help of the web guide. Everything of course is related with hard disks and their RAID level. Afterwards, it's enough to set a share directory and begin to store the data."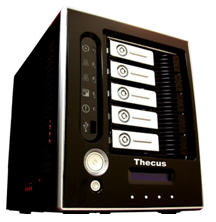 The verdict: "The N5200 is very strong device for massive data storage. It offers a wide variety of functions. It can also connect wirelessly with a Wi-Fi connector where it can work as an AP."
For the full review, check out CHIP Magazine Czech Republic.
For more information on the N5200, go to:
http://www.thecus.com/products_over.php?cid=1
For more information on Thecus, go to:
http://www.thecus.com
---
About Thecus
Thecus® Technology Corp. specializes in IP Storage Server solutions. The company was established in 2004 with the mission to make technology as transparent and easy-to-use as possible, and to make products that are not only the best on the market, but are accessible to experts and novices alike. With a best-in-class R&D team highly experienced in storage hardware and software and with a keen customer focus, Thecus® stays close to the market to develop high-quality products to fulfill the storage needs of today's world.
For more information, please visit the Thecus® website at: http://www.thecus.com
For sales and other inquiries, please contact us via email: sales@thecus.com