For sales inquiries,
please contact us at:


sales@thecus.com
For marketing inquiries, please contact us at:


marketing@thecus.com
2007-02-01
SATA-based rackmount device set to shake up enterprise storage SATA-based rackmount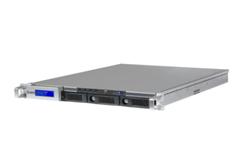 02/01/2007 – In today's digital age, data storage and security are increasing concerns for many enterprises. However, finding a storage solution that integrates advanced data security features at a reasonable cost has been a challenge. Today, Thecus Technololgy, a leader in data storage solutions, is pleased to announce the 1U4500 Rackmount Storage Device. With four SATA hard disk bays, an optional redundant power supply, advanced configuration features, and a handy LCD display, the 1U4500 brings Thecus' proven data storage technology to a 1U rackmount form factor.
Equipped with an ultra-low voltage 1.5GHz Intel® Celeron™ M processor and 512MB of DDR memory, the 1U4500 is capable of handling a multitude of data processing tasks quickly and effectively, while enabling over 30% savings in energy consumption. The 1U4500 features four hot-swappable hard disk trays that accept standard 3.5" SATAII hard disks for up to 3 terabytes of storage. Multiple RAID modes including RAID 0, 1, 5, 6, 10, and JBOD allows administrators to choose the mode that best fits the enterprise's computing environment, and with the 1U4500's Quick RAID feature, the RAID can be built within minutes on first use. The 1U4500 also has RAID migration and RAID expansion capabilities, which allow administrators to change the RAID configuration and add new RAID volumes after the original RAID mode as been set, ensuring that system changes are smooth with limited downtime.

Because extended downtime can be extremely costly for any business, the 1U4500 also comes with several other features that ensure that data is always accessible and secure. Dual Gigabit Ethernet ports with 802.3ad-based Load Balancing and Failover capabilities enable better throughput and non-stop connectivity. To provide uninterrupted service in the event of a power supply failure, Thecus also offers a version of the 1U4500 with a 250W redundant power supply. The 1U4500 also includes a built-in eSATA port for even more storage expansion options, and support for multiple languages. Administering the 1U4500 is a breeze with its handy LCD display that not only displays critical system status information, but also enables you to make quick changes to IP addresses and link aggregation. With features like these, the 1U4500 offers power, security, and convenience, making it an ideal solution for today's enterprises.
"The 1U4500 offers a compelling combination of power, flexibility, and low cost for the enterprise market," notes Thecus CEO Edwin Lin. "By utilizing SATA versus traditional SCSI technology, the 1U4500 delivers an exciting value proposition for businesses everywhere."
| | | |
| --- | --- | --- |
| SKU # | Description | Availability |
| 1U4500R | 250W redundant power supply | Feb |
| 1U4500S | 200W standard power supply | Feb |
For more information on Thecus, go to:
---
About Thecus
Thecus® Technology Corp. specializes in IP Storage Server solutions. The company was established in 2004 with the mission to make technology as transparent and easy-to-use as possible, and to make products that are not only the best on the market, but are accessible to experts and novices alike. With a best-in-class R&D team highly experienced in storage hardware and software and with a keen customer focus, Thecus® stays close to the market to develop high-quality products to fulfill the storage needs of today's world.
For more information, please visit the Thecus® website at: http://www.thecus.com
For sales and other inquiries, please contact us via email: sales@thecus.com