For sales inquiries,
please contact us at:


sales@thecus.com
For marketing inquiries, please contact us at:


marketing@thecus.com
2007-01-26
Debian ARM accelerates via EABI port
01/26/2007 – Thecus has always been on the cutting-edge of the latest technology. With features such as third-party module management and Linux compatibility, the Thecus YES Box N2100 featuring the Intel® 80219 processor has been an excellent platform for software development. Embedded system specialist Applied Data Systems (ADS) has contributed an experimental new root filesystem for the ARM architecture to the Debian project. Comprised of 9,877 packages and growing, the ADS-contributed filesystem offers greatly improved floating point performance, thanks to support for ARM's EABI (embedded application binary interface).
The Debian project had worked for some time, prior to ADS's contribution, to build up a viable ARM EABI port. However, these efforts had been "taking a while," wrote developer Lennert Buytenhek, when he announced his port to the Debian community on Jan. 10th. Buytenhek wrote:
"More and more VFP-supporting CPUs are coming out lately, and it would be nice to be able to use VFP on them in a sane way. The existing Debian EABI efforts have been taking a while, so November 24 last year I started working on a from-scratch EABI port, sponsored by Applied Data Systems. Six and a half weeks later, there's about 6,000 debs built, and so far it all seems to work pretty well."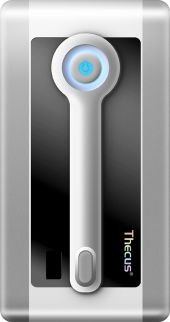 Buytenhek at first said ADS would keep its ARM EABI filesystem for internal use and for customers. However, several days later, Buytenhek wrote:
"As it doesn't really make a lot of sense anymore to keep the port private at this point, ADS decided that it should be opened up to the public. Yay."
Within a couple of days, the package count in Buytenhek's ARM EABI filesystem had grown to 9,877. He reported that he was compiling the applications natively, on top of Koen Kooi's OpenEmbedded-based pure EABI filesystem, running on three donated Thecus N2100 storage devices (pictured at right), based on Intel 80219 processors. Buytenhek also made use of a donated Intel IQ81342EX, a development board for Intel's IOP341 and IOP342 storage processors.
---
About Thecus
Thecus® Technology Corp. specializes in IP Storage Server solutions. The company was established in 2004 with the mission to make technology as transparent and easy-to-use as possible, and to make products that are not only the best on the market, but are accessible to experts and novices alike. With a best-in-class R&D team highly experienced in storage hardware and software and with a keen customer focus, Thecus® stays close to the market to develop high-quality products to fulfill the storage needs of today's world.
For more information, please visit the Thecus® website at:
http://www.thecus.com
For sales and other inquiries, please contact us via email:
sales@thecus.com