For sales inquiries,
please contact us at:


sales@thecus.com
For marketing inquiries, please contact us at:


marketing@thecus.com
2007-01-16
"The N5200 – A perfect solution"
01/16/2007 – Thecus' flagship N5200 NAS Device has been garnering praise worldwide for its stylish design, robust features, and strong performance. In their January 2007 issue, WCM Magazine put the N5200 under the microscope with impressive results.
WCM takes a close look at some of the basic features of the N5200: "The flow of information is growing rapidly. To handle and store this information, Thecus offers the N5200 - a perfect solution. The black designed box looks very stylish and could fit into a professional IT environment as well into the living room for enthusiasts. On the front you'll find the LCD panel where the user can set up basic adjustments (date, time, IP address, etc.). There are 5 hot-swappable drive bays for SATA-II hard drives (up to 750GB each) built in. On the back side you'll find a serial port for service purposes, 2x GbE connectors (one for LAN and one for WAN) and 2x USB Type A ports for a printer, digital camera or a WLAN dongle. There is also a USB Type B port available for a direct connection to a PC. The box offers an eSATA Port, where an external hard drive or another N5200 can be connected…All important RAID features (RAID levels 0, 1, 5, 6, 10, RAID migration, auto-rebuild, etc.) are built in. Inside the N5200 are an Intel Mobile Celeron and 256MB of memory."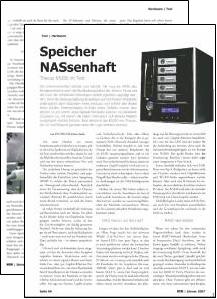 Easy setup and robust functionality are some of Thecus' hallmarks: "The installation and the setup is with the web-based administration tool is very easy. The box can be used with different Network File Protocols, such as CIFS/SMB, AFP, NFS, FTP, HTTP, HTTPs."
But how was the performance? "Now it's on time to take a look at the transfer speed of the N5200. For that reason we have copied a lot (more than 4GB) of data between the N5200 and the PC. The results are excellent (24 MB/s write and 27 MB/s read) if the connections are over a Gigabit LAN."
The verdict: "If you need a powerful NAS solution for a fair and competitive price with a modern built in technology, you should choose the Thecus N5200."
For the full review, check out the January 2007 issue of WCM Magazine.
For more information on the Thecus N5200, go to:
http://www.thecus.com/products_over.php?cid=1&pid=8
For more information on Thecus, go to:
http://www.thecus.com
---
About Thecus
Thecus® Technology Corp. specializes in IP Storage Server solutions. The company was established in 2004 with the mission to make technology as transparent and easy-to-use as possible, and to make products that are not only the best on the market, but are accessible to experts and novices alike. With a best-in-class R&D team highly experienced in storage hardware and software and with a keen customer focus, Thecus® stays close to the market to develop high-quality products to fulfill the storage needs of today's world.
For more information, please visit the Thecus® website at: http://www.thecus.com
For sales and other inquiries, please contact us via email: sales@thecus.com