For sales inquiries,
please contact us at:


sales@thecus.com
For marketing inquiries, please contact us at:


marketing@thecus.com
2006-12-20
"Very easy to install and friendly to maintain and manage"

12/20/2006 – Who says that complex products have to be complicated? Designed for total ease-of-use, the Thecus N5200 RouStor takes advanced features such as multiple RAID modes, folder permissions, and secure backup, and makes it easy to use and manage. Windows IT Pro Magazine tested the five-bay NAS, and was very pleased with its intuitive design, quiet operation, and excellent price/performance ratio.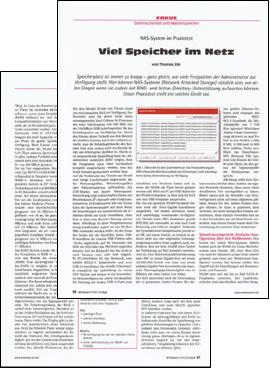 Windows IT Pro begins by looking at some of the key features of the N5200: "Storage capacity is always not enough, not matter how many GB the administrator allows us to have. Thecus brings the N5200 with a low-voltage 600MHz Intel Celeron M Processor to the market. With five Seagate 750GB hard disks, there will be 3.75TB of capacity available. N5200 is quiet and suitable for a tabletop in the office."
Performance was top notch: "We tested this machine with Hitachi Deskstar HDT722516DLA 380(160GB) with RAID 1. The read rate reaches 56 MB/s and drops to 23MB/s. The write rate reaches 51 MB/s and drops to 17 MB/s. The boot time is about 85 seconds, then N5200 is ready -- it is very quick."
The conclusion: "N5200 is very easy to install and friendly to maintain and manage. The price is good compared with the performance and features."
For the full review, check out the December 2006 issue of Windows IT Pro Magazine.
For more information on the Thecus N5200, go to:
http://www.thecus.com/products_over.php?cid=1&pid=8
For more information on Thecus, go to:
http://www.thecus.com
---
About Thecus
Thecus® Technology Corp. specializes in IP Storage Server solutions. The company was established in 2004 with the mission to make technology as transparent and easy-to-use as possible, and to make products that are not only the best on the market, but are accessible to experts and novices alike. With a best-in-class R&D team highly experienced in storage hardware and software and with a keen customer focus, Thecus® stays close to the market to develop high-quality products to fulfill the storage needs of today's world.
For more information, please visit the Thecus® website at: http://www.thecus.com
For sales and other inquiries, please contact us via email: sales@thecus.com