For sales inquiries,
please contact us at:


sales@thecus.com
For marketing inquiries, please contact us at:


marketing@thecus.com
2006-12-15
"The Thecus N5200 is going to be very hard to beat"

12/15/2006 –The Thecus N5200 is the ultimate NAS device, featuring five SATA hard disk bays, multiple RAID options, Thecus' RouStor™ Technology, and superb performance. The folks at TrustedReviews.com recently tested the unit, and were very impressed, giving it an overall score of 8 out of 10 and their Recommended Award!
Editors gushed over the laundry list of great features: "Just when you thought it wasn't possible to cram any more features into a desktop NAS appliance along comes Thecus and its latest N5200 RouStor. This is the first of its kind to support up to five SATA hard disks and it also brings RAID-6 into the picture. Normally seen on higher end disk arrays, RAID-6 offers dual independent parity and can survive the loss of two hard disks...There's much more as you also get five Gigabit Ethernet ports with four amalgamated into a switch for LAN duties and the fifth set aside as a WAN port. As the name suggests, the appliance performs routing between the LAN and WAN ports and you can also stop your local users from accessing the WAN port. The features list doesn't end there either as the N5200 uses a low-voltage 600MHz Intel Celeron M processor, comes with 256MB of memory and offers three USB 2.0 ports and even an eSATA port as well."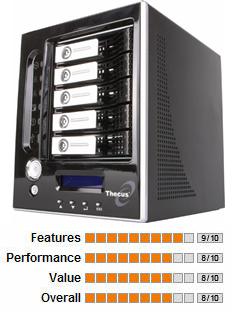 Well built and well designed: "Build quality is impressive as the chassis has a solid steel shell and the smart, black front panel has plenty of status LEDs. The blue backlit LCD panel runs through displaying the state of the RAID arrays and the system fan plus the IP addresses for LAN and WAN ports."
The verdict: "There may be plenty of choice at this level of the NAS appliance market but the N5200 RouStor is going to be very hard to beat for features although the RAID-6 function will cost in terms of available capacity."
For the full review, please go to:
http://www.trustedreviews.com/networking/review/2006/12/03/Thecus-N5200-RouStor-NAS-Router/p1
For more information on the N5200, go to:
http://www.thecus.com/products_over.php?cid=1&pid=8
For more information on Thecus, please go to:
www.thecus.com
---
About Thecus
Thecus® Technology Corp. specializes in IP Storage Server solutions. The company was established in 2004 with the mission to make technology as transparent and easy-to-use as possible, and to make products that are not only the best on the market, but are accessible to experts and novices alike. With a best-in-class R&D team highly experienced in storage hardware and software and with a keen customer focus, Thecus® stays close to the market to develop high-quality products to fulfill the storage needs of today's world.
For more information, please visit the Thecus® website at: http://www.thecus.com
For sales and other inquiries, please contact us via email: sales@thecus.com