For sales inquiries,
please contact us at:


sales@thecus.com
For marketing inquiries, please contact us at:


marketing@thecus.com
2006-12-11
YES Box praised for excellent performance at a reasonable price
12/11/2006 –The YES Box N2100 from Thecus has already won numerous awards around the world for its smart design, strong performance, and robust feature set. The latest review comes from WCM Magazine, who in their December issue took a look at the 2-bay wonder. In the end, WCM Editors saw it fit to award the YES Box N1200 with their 3-star Award, citing excellent performance at a reasonable price!
Here is the conclusion from the review: "Since long time ago, many private users have been looking for storage devices for increasing digital data. Thecus' YES Box meets this demand exactly. Distributed by Asguard in Vienna, this box is very easy to manage through a friendly user interface. Users can set up RAID 0 or RAID 1 for doubled security. Through the user manual, even in German, the YES Box provides an affordable solution for home users who can easily store music, photos and any digital files."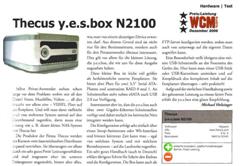 3 Stars Award!
Positive points:
Easy to install
Reasonable price
Excellent performance
Compatible with different platforms
Negative points: none
For the full review, check out the December 2006 issue of WCM Magazine.
For more information on the Thecus YES Box N2100, go to:
http://www.thecus.com/products_over.php?cid=1&pid=1
For more information on Thecus, please go to:www.thecus.com
---
About Thecus
Thecus® Technology Corp. specializes in IP Storage Server solutions. The company was established in 2004 with the mission to make technology as transparent and easy-to-use as possible, and to make products that are not only the best on the market, but are accessible to experts and novices alike. With a best-in-class R&D team highly experienced in storage hardware and software and with a keen customer focus, Thecus® stays close to the market to develop high-quality products to fulfill the storage needs of today's world.
For more information, please visit the Thecus® website at: http://www.thecus.com
For sales and other inquiries, please contact us via email: sales@thecus.com