For sales inquiries,
please contact us at:


sales@thecus.com
For marketing inquiries, please contact us at:


marketing@thecus.com
2010-12-29
Thecus NVR offer a powerful theft deterrent for an age-old allure
12/29/2010 - A recent slew of jewelry store robberies in Shanghai and Beijing have brought up questions about safety and surveillance. Commonly thought to be relics of an era with cowboys and gunslingers, robberies of this kind, with thieves operating during broad daylight as well as night, have been thrust back into the public eye.
Common surveillance techniques, whether relying on videotapes or digital storage technology, are quickly becoming outdated. Jewelry stores sell unusual products, have unusual setups, and therefore need very flexible monitoring tools to successfully set up a surveillance system. The ability to build cloud networks of video cameras operating in multiple locations and controlled from a central hub has revolutionized this market.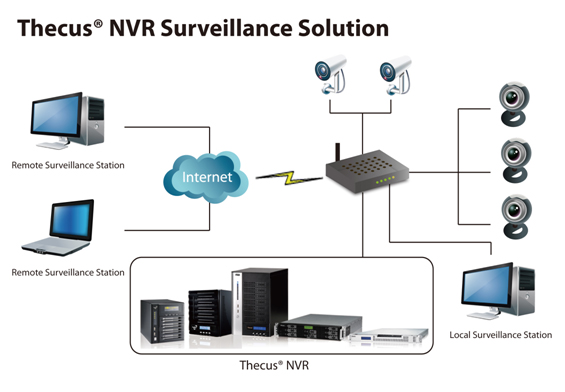 Small Changes, Big Results
Burglaries are very real and Thecus NVR's go a long way in preventing them, but proper surveillance systems can provide much needed day-to-day supervision as well. Because jewelry is small by definition, even the priciest products in a jewelry store can easily be pocketed by customers trying on items or employees taking stock of supplies. A few well places cameras can provide a strong enough deterrent to avoid petty theft and the false accusations and hurt feelings that often come with it. In situations where jewelry is missing, a person's innocence can be proven as easily as one's guilt.
Tackling Both Sides of the Issue
There are two ideal ways to deal with a robbery: prevention and apprehension. Installing a professional NVR surveillance system for all to see is a powerful preventative tool. Potential robbers will choose to avoid targeting places that are well protected and provide a serious challenge to getting off scot-free. Thecus NVR surveillance systems supply police with easily navigable, high quality video and audio footage of everything that occurs in a robbery, which is often enough to lead them to the right suspects and make an arrest. This deterrent keeps stores, goods, and especially employees safe.
An NVR Surveillance System That Really Works
When making an NVR purchase, customers have a variety of needs and wants, but generally focus on just a few factors: Performance, functionality, stability, and price.
Performance - Thecus NVR come with powerful Intel-driven hardware that can support at least 5 cameras recording high quality video and audio at once. Depending on your business needs, you can choose any model from the 4-bay NVR42 and the 2U NVR88, which supports up to 10 cameras.
Functionality - Thecus NVR utilize the sophisticated NETAVIS surveillance software, which provides simultaneous multiple-camera views, straightforward browsing through recorded video, and support for advanced camera features such as motion detection and pan/tilt/zoom functionality. A network of Thecus NVR can support an unlimited number of cameras and can be controlled from a central hub located anywhere, even across the globe.
Price - Thecus NVR give you the ultimate surveillance solution without breaking the bank. These are professional surveillance solutions with the power, functionality, and security you need at a price lower than the competition.
For more information on Thecus® NVR Solutions, please go to:
http://www.thecus.com/product_catalog.php?PROD_TYPE_ID=61
---
About Thecus®
Established in 2004, Thecus Technology Corp provides market leading network attached storage and network video recorder solutions, committed to revolutionize how everyone from home user to enterprise level business centrally stores, manages and accesses their digital data both onsite and cloud-based. Thecus strives to deliver continuous innovation through cutting edge technology and design to provide data storage with the most customer-friendly platform, rapid performance and robust security. In May 2016, Thecus was formally acquired by Ennoconn Corporation and thus became part of the Foxconn IPC Technology group. Partnered together this diverse group of companies work in tandem to provide a total IoT (Internet of Things) solution. Now with an unparalleled portfolio to work with, Thecus is collaborating to bring unprecedented change to the network storage industry.