For sales inquiries,
please contact us at:


sales@thecus.com
For marketing inquiries, please contact us at:


marketing@thecus.com
2006-11-20
Editors rave about good performance, functionality and price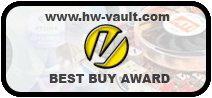 11/20/2006 –
With great functionality, sophisticated styling, and fast performance, people around the world are saying YES to the
Thecus
YES Box N2100
. The editors at
Hardware Vault
took a look at the innovative NAS device, and decided to bestow it with their coveted
Best Buy Award
, citing excellent performance at a great price.
Hardware Vault begins by describing the N2100: "Removing the cover, we approach the mainboard of the Thecus product. Visible is support for two hard disks, which have to have a SATA interface. Like the N4100, an Intel(R) 80219 processor, part of the Intel XScale(R) Technology family, will be the brains of the NAS device placed beside 128M of memory...We also notice a slot similar to that of a SoDIMM RAM slot notebooks which appears to be a mini PCI slot for compatible mini PCI cards."
But what about performance? "Using Smart FTP on my desktop, I found write speeds of 4000kb/s and about twice that for reading. Copying to the Xbox was just as fast, which it turned out a little slower on the IBM...The iTunes server worked with no problems, listening to music through my notebook equipped with the software through the main router (a Netgear 834GT)."
The conclusion: "At this price level there are not many alternatives to the N2100. For the comfort and flexibility of use that it allows, the N2100 undoubtedly deserves the price that it demands. For all the reasons that I mentioned, The Thecus N2100 wins our Best Buy Award for great compatibility and good rapport for quality and price."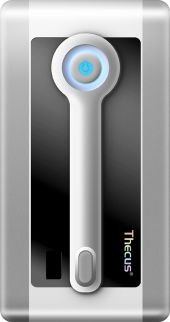 Positive Aspects
Optimal functionality with iTunes
Excellent compatibility with several HDs
Wireless expansion possibility
Optimal interface
For the full review, check out:
http://www.hw-vault.com/articolo/150/thecus-n2100.html
For more information on the Thecus N2100, check out:
http://www.thecus.com/products_over.php?cid=1&pid=1
---
About Thecus
Thecus® Technology Corp. specializes in IP Storage Server solutions. The company was established in 2004 with the mission to make technology as transparent and easy-to-use as possible, and to make products that are not only the best on the market, but are accessible to experts and novices alike. With a best-in-class R&D team highly experienced in storage hardware and software and with a keen customer focus, Thecus® stays close to the market to develop high-quality products to fulfill the storage needs of today's world.
For more information, please visit the Thecus® website at: http://www.thecus.com
For sales and other inquiries, please contact us via email: sales@thecus.com