For sales inquiries,
please contact us at:


sales@thecus.com
For marketing inquiries, please contact us at:


marketing@thecus.com
2006-11-16
The easy-to-use digital data archive now with Mediabolic® technology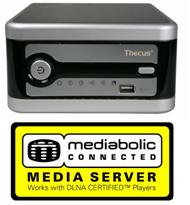 11/20/2006 – The release of the YES Box N2100 has changed what people have come to expect from a network-attached storage device. From stellar design to impressive features, the YES Box 2100 has been impressing media enthusiasts the world over. So how do you improve the easy-to-use digital data archive? By making it even easier to use! Enter the YES Box N2100BM from Thecus Technology, featuring Embedded Media Server technology from Mediabolic®. With this new functionality, the YES Box N2100 just got even more versatile and user-friendly.
First and foremost, the N2100BM takes the original award-winning design, and couples it with the Embedded Media Server from Mediabolic. This software makes music, photo, and video files available over a network for streamed playback on connected entertainment products. The software resides on the N2100BM and aggregates personal media so that it was can be accessed by a variety of players, such as network TVs, IP set-top boxes, and digital media adapters. This software is DLNA Certified, which means that increased interoperability with other DLNA certified devices. The Embedded Media Server software aggregates content from multiple sources on the network into a single, unified directory, and enables advanced digital rights management, an auto setup wizard, and auto-generating video thumbnails. With Mediabolic's Embedded Media Server, the N2100BM's end-user experience is smoother than ever before.
Under the hood, the YES Box N2100BM features an Intel® 80219 Processor and two internal 3.5" bays that accommodate two SATA hard disks for up to 1 terabytes (1000GB) of storage! The YES Box N2100BM also offers users several disk storage options, including RAID 0, RAID 1, and JBOD. With advanced power saving management, the YES Box N2100BM consumes 30% less power compared to a similarly configured PC, but comes fully equipped with dual Gigabit Ethernet ports and three high-speed USB 2.0 ports for quick file transfers.
Use the YES Box N2100BM as an FTP server to allow your friends or customers to access your digital assets, or configure it as an iTunes® server to make your music accessible by networked PCs with iTunes installed. What's more, the YES Box N2100BM comes equipped with the YES Community Photo Web Server, turning it into a fully-fledged photo bank!
"Ensuring superior usability and interoperability are some of the principles we have when designing a new product. Our new N2100BM accomplishes these goals by integrating Mediabolic's media server software," says Edwin Lin, Thecus CEO. "Meeting both UPnP specifications and DLNA Certification, the N2100BM makes digital media easily accessible over virtually any network. We are thrilled to have developed the N2100BM with Mediabolic technology, and are looking forward to further collaboration between our two companies in the future."
For more information on Thecus, go to: http://www.thecus.com/
---
About Thecus
Thecus® Technology Corp. specializes in IP Storage Server solutions. The company was established in 2004 with the mission to make technology as transparent and easy-to-use as possible, and to make products that are not only the best on the market, but are accessible to experts and novices alike. With a best-in-class R&D team highly experienced in storage hardware and software and with a keen customer focus, Thecus® stays close to the market to develop high-quality products to fulfill the storage needs of today's world.
For more information, please visit the Thecus® website at: http://www.thecus.com
For sales and other inquiries, please contact us via email: sales@thecus.com