For sales inquiries,
please contact us at:


sales@thecus.com
For marketing inquiries, please contact us at:


marketing@thecus.com
2006-11-06
3Gb/sec high-speed eSATA storage never looked better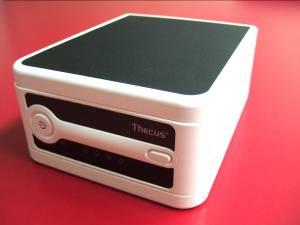 11/06/2006 –
For users who require access to their stored digital media in a hurry, the
N2050
storage device from Thecus Technology delivers
outstanding performance
with
the world's first eSATA interface
on a
DAS
device. To celebrate the success of this innovative product, Thecus is pleased to announce the release of the
N2050B Black and White Edition
. Featuring the same sleek styling, large storage capacity, and innovative features as its older sibling, the N2050 Black and White Edition offers a classic color scheme that never goes out of style.
The N2050 is the first DAS storage device to feature a high-speed eSATA interface. With eSATA, the N2050 boasts up to 3Gb/s of data transfer speed – up to six times faster than high-speed USB 2.0! Those without an eSATA port can instead use the included USB 2.0 interface. With the N2050, you can enjoy your digital data your way.
With two 3.5" SATA drive bays, the N2050 can accommodate up to two SATA hard disks up to 500GB in size for a massive 1 terabyte (TB) of storage! With enough storage for over 1,000,000 photos and 250,000 songs, the N2050 is ideal for the media enthusiast. To keep your data safe, the N2050 comes standard with a hardware RAID controller, which can be configured RAID 1 for increased data security. Alternatively, RAID 0 can be used for increased disk performance.
Setting up the N2050 is an absolute breeze. Simply install your hard disks, connect the N2050 to your PC or notebook, plug it in, and turn it on. No drivers to install, no fuss, no muss. Designed for hassle-free installation, the N2050 can be setup and running in a matter of minutes. With Plug-n-Play capability, the N2050 is also compatible with Windows, Mac OS X, and Linux environments right out of the box.
So what are you waiting for? Get the N2050B Black and White Edition, and store your data with style!
For more information on Thecus, go to: http://www.thecus.com/
---
About Thecus
Thecus® Technology Corp. specializes in IP Storage Server solutions. The company was established in 2004 with the mission to make technology as transparent and easy-to-use as possible, and to make products that are not only the best on the market, but are accessible to experts and novices alike. With a best-in-class R&D team highly experienced in storage hardware and software and with a keen customer focus, Thecus® stays close to the market to develop high-quality products to fulfill the storage needs of today's world.
For more information, please visit the Thecus® website at: http://www.thecus.com
For sales and other inquiries, please contact us via email: sales@thecus.com