For sales inquiries,
please contact us at:


sales@thecus.com
For marketing inquiries, please contact us at:


marketing@thecus.com
2006-11-06
Superior 5-bay solution tops the charts

11/06/2006 – Since its release, the N5200 High-Performance NAS device from storage leader Thecus Technology has impressed both media and hardware enthusiasts the world over. The networking gurus at Tom's Networking recently put together a performance comparison of no less than 13 networked storage devices. What they found out was that the N5200 truly lived up to its "high-performance" moniker, trouncing the other competing devices. In fact, the N5200 was a whopping 17.5% faster than the closest competitor! Check out the graph below: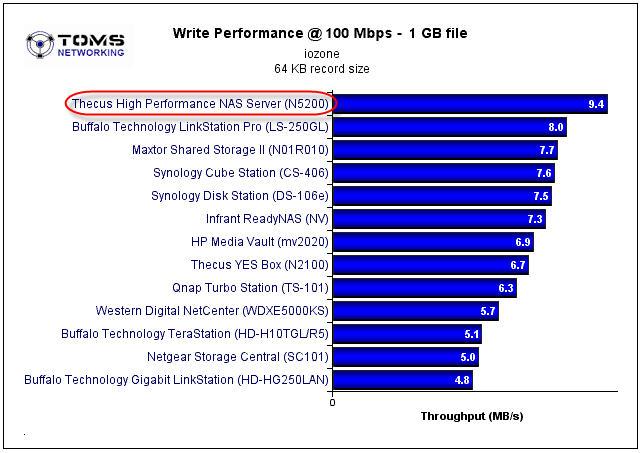 With superior performance and a bevy of RAID modes and configuration options, the Thecus N5200 truly is the ultimate network-attached storage device.
To check out the full comparison, go to:
http://www.tomsnetworking.com/nas/charts/index.html?chart=127
For more information on the Thecus N5200, check out:
http://www.thecus.com/products_over.php?cid=1&pid=8
For more information on Thecus, go to:
http://www.thecus.com/
---
About Thecus

Thecus® Technology Corp. specializes in IP Storage Server solutions, including Network Attached Storage (NAS) and Wireless Media Bank products. The company was established in 2003 with the mission to make technology as transparent and easy-to-use as possible, and to make products that are not only the best on the market, but are accessible to experts and novices alike. With a best-in-class R&D team highly experienced in storage hardware and software and with a keen customer focus, Thecus® stays close to the market to develop high-quality products to fulfill the storage needs of today's world.
For more information, please visit the Thecus® website at:
http://www.thecus.com/
For sales and other inquiries, please contact us via email:
sales@thecus.com