For sales inquiries,
please contact us at:


sales@thecus.com
For marketing inquiries, please contact us at:


marketing@thecus.com
2006-10-16
"Possibilities are nearly endless."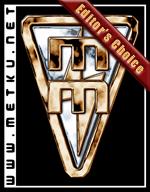 10/16/2006 – The YES Box N2100 NAS device has been receiving awards ever since its introduction. The latest accolade comes from the editors of Metku.net, who liked the unit so much, decided to bestow it with their Editor's Choice Award for excellent design, performance, and RAID functionality.
Smart design is just one of the YES Box N2100 strong points: "Front panel of the unit is very stylish and not overly decorated…I personally like the two toned coloring of this unit…It is great to see a removable drive cage. Makes the installation so much easier. Drives are pushed in to the cage and when they slide all the way in, they make connection with the backboard automatically. This means that there are no messy wires to deal with thus improving the air circulation inside the N2100."
The YES Box N2100 offers nearly limitless flexibility: "If you want to setup a network archive server easily, N2100 is definitely a product that you should take in on your list of choices. It has the performance to serve even the largest files and with RAID 1 it offers safety for your valuable data. Stock it up with two 750 GB drives running either JBOD or RAID 0, you have a huge amount of storage space in your disposal. All the content can be shared either inside your private network or to the whole internet community. One can stream video files or music to a Xbox, share photos and files with relatives or run a blog. Small companies can use N2100 as a fault tolerant file server or just a temporary dump drive. Possibilities are nearly endless."
The verdict? "All in all I really liked this unit. Now I'm pretty confident that my digital photos and other valuable digital content will be in "safe hands". Hard drives have good guarantees these days and you can get a damaged drive replaced easily but what about the content that was on that drive? Perhaps you should take a hard look on what data you are willing to loose when the disk failure strikes. Something that you don't need to think about that much when your bits and bytes are automatically mirrored to separate hard drives when using RAID 1 or better."
For the full review, go to:
http://www.metku.net/index.html?path=reviews/n2100/index_eng

For more information on Thecus, go to:
http://www.thecus.com/

---
About Thecus
Thecus® Technology Corp. specializes in IP Storage Server solutions, including Network Attached Storage (NAS) and Wireless Media Bank products. The company was established in 2003 with the mission to make technology as transparent and easy-to-use as possible, and to make products that are not only the best on the market, but are accessible to experts and novices alike. With a best-in-class R&D team highly experienced in storage hardware and software and with a keen customer focus, Thecus® stays close to the market to develop high-quality products to fulfill the storage needs of today's world.
For more information, please visit the Thecus® website at: http://www.thecus.com/
For sales and other inquiries, please contact us via email: sales@thecus.com