For sales inquiries,
please contact us at:


sales@thecus.com
For marketing inquiries, please contact us at:


marketing@thecus.com
2010-11-11
Thecus® NVR provide safety and security in the classroom
11/11/2010- Schools around the world have been leaning towards getting modern digital video monitoring systems for some time now. With the technology becoming cheaper, more effective, easier to use, and better organized, the benefits of this choice are becoming ever more evident. Teachers and administrators have always struggled to deal with safety concerns, bullying, and even cheating, and, with a centralized Thecus monitoring network, they will be more prepared than ever to face these challenges.
Safety First
Schools are always growing in size and it is often difficult to keep track of who is coming and going, giving trespassers the chance to become distractions, at the very least. Bullying, a problem that spans generations, can often get out of control and put students in real danger. Theft is also very common, whether it is from lockers or misplaced backpacks, and can often lead to additional unnecessary controversies and false accusations. Installing a few well-placed IP cameras can discourage all of these practicesand, when in need of evidence, provide high quality video footage either proving guilt or exonerating the accused.
Dishonesty is a Travesty
Cheating is a pervasive issue that jeopardizes the integrity of the education system and unfairly rewards dishonest behavior. There are many traditional strategies for confronting this: spacing out desks, individual tests, harsh punishments, and good old fashion watching. The problem is that none of these provides an absolute solution to the problem, and, when those two identical tests pop up, there is no way to truly tell if cheating occurred or if both students just studied hard. The only thing worse than letting a cheater keep cheating is accusing an innocent of the same. With a well-organized and easily browseable video database, this problem simply doesn't arise, and it will quickly be clear to students that cheating is not the easy way out.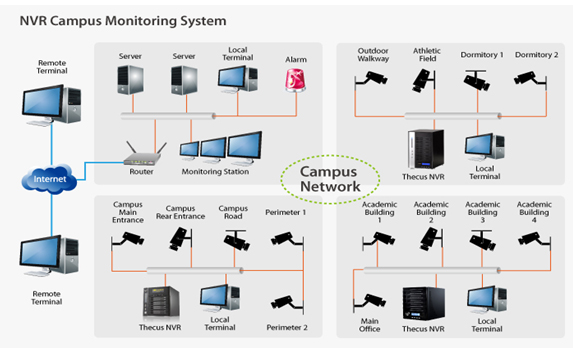 Flexibility for a vibrant, dynamic environment
Each and every school is different, with different atmospheres, different kids, and different needs. A small rural school may need only to monitor the front doors, whereas a large urban school may need to monitor every little nook and cranny; from the hallways, to the classrooms, even the cafeteria. Others may even need a central station to monitor and organize video from an entire school system, including primary, elementary, middle, and high schools. Thecus NVR provide an easy solution for all of any school, no matter the size or situation.
A single NVR can support up to 10 high-resolution cameras through a network connection, and it's very easy to expand your coverage with additional NVR. All you need is an NVR, an Ethernet connection, and IP cameras and you'll be up and running in no time. Thecus NVR also support a wide range of video formats1 for replay or storage. Motion activation, image quality adjustment, remote PTZ (pan, tilt, zoom) control, and central control all run through NETAVIS's advanced user interface are just some of what makes a Thecus NVR solution an easy choice.
1 Thecus NVR support MJPEG, MPEG-4, H.264 and MxPEG (for Mobotix cameras) video formats as well as AVI, JPEG, and SAFE video formats for export.
For more information on NETAVIS Software, please go to:
http://www.netavis.net/
For more information on Thecus® NVR Solutions, please go to:
http://www.thecus.com/products_index.php?set_language=english
---
About Thecus®
Established in 2004, Thecus Technology Corp provides market leading network attached storage and network video recorder solutions, committed to revolutionize how everyone from home user to enterprise level business centrally stores, manages and accesses their digital data both onsite and cloud-based. Thecus strives to deliver continuous innovation through cutting edge technology and design to provide data storage with the most customer-friendly platform, rapid performance and robust security. In May 2016, Thecus was formally acquired by Ennoconn Corporation and thus became part of the Foxconn IPC Technology group. Partnered together this diverse group of companies work in tandem to provide a total IoT (Internet of Things) solution. Now with an unparalleled portfolio to work with, Thecus is collaborating to bring unprecedented change to the network storage industry.