For sales inquiries,
please contact us at:


sales@thecus.com
For marketing inquiries, please contact us at:


marketing@thecus.com
2010-11-01
The four-bay NAS where performance meets affordability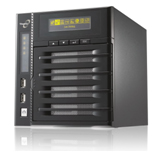 11/01/2010 – Many users today want a NAS device that can handle all of their daily data backup and management needs, but not break the bank. For these users, Thecus® Technology, the Creator in Storage, is happy to announce the N4200Eco NAS Server, a surprisingly affordable four-bay NAS that offers next-generation performance and functionality.
The N4200Eco delivers first-class performance at an economy-class price. The two Gigabit Ethernet ports provide high throughput, which is a perfect match for the N4200Eco's four hot-swappable SATA bays worth of storage potential. Users can install up to 8TBs of storage, and manage it all with multiple RAID modes including RAID 0, 1, 5, 6, 10 and JBOD. Changing a damaged hard disk is easy, thanks to a slew of useful capabilities including online RAID migration and expansion, hot spare and auto rebuild, and to further protect sensitive data, AES 128bit RAID volume encryption is included as well.
Managing the N4200Eco is an incredibly simple affair. To help you keep tabs on your NAS, the N4200Eco features dual displays. Check the LCD indicator for the latest system status information including hard disk power and activity, network activity and USB copy status. The colorful 2.8" OLED module allows you to change a variety of system settings right on the spot. To help you save even more money, the N4200Eco comes with a number of advanced power saving features, including scheduled power on/off, Wake-on-LAN, and auto disk spin down. Set the N4200Eco to turn on and off at designated times and watch your power bill shrink. The N4200Eco also comes with a ton of other useful features including an FTP server, download manager, printer server, iTunes server, photo web server, media server and more, rounding out one of the best NAS values on the market.
"Featuring a new Intel Atom processor, DDR3 memory, and a slew of advanced features, the N4200Eco raises the bar again in the value NAS segment," said Florence Shih, Thecus® Technology general manager. "With impressive performance and strong functionality, we're confident that value seekers are really going to appreciate this powerful yet affordable NAS server."
Equipped with the latest Intel® Atom™ D525 processor and 1GB of high-speed DDR3 memory, users will discover that the N4200Eco delivers incredibly snappy system response, blazing file transfer speeds, and silky smooth operation even when multiple clients are connecting to it at once.
"Demand for anytime, anywhere access to data on any device continues to fuel innovation in networking and storage," said David Tuhy, general manager, Intel Storage Group. "The Intel Atom processor provides the energy efficient performance necessary to tackle next-generation workloads which include media streaming, protecting files and sharing digital content locally and remotely."
For more information on the N4200Eco, check out:
http://www.thecus.com/products_over.php?cid=10&pid=429&set_language=english
---
About Thecus®
Thecus® Technology Corp. specializes in IP Storage Server solutions. The company was established in 2004 with the mission to make technology as transparent and easy-to-use as possible, and to make products that are not only the best on the market, but are accessible to experts and novices alike. With a best-in-class R&D team highly experienced in storage hardware and software and with a keen customer focus, Thecus® stays close to the market to develop high-quality products to fulfill the storage needs of today's world.
For sales inquiries, please contact us via email: sales@thecus.com
For marketing inquiries, please contact us via email: marketing@thecus.com