For sales inquiries,
please contact us at:


sales@thecus.com
For marketing inquiries, please contact us at:


marketing@thecus.com
2006-10-04
"It sure sounds like a great idea to me."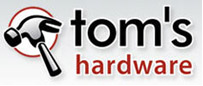 10/5/2006 – With today's digital cameras constantly upgrading the pixel count, photographers are looking for an easy-to-use solution to back up their pictures on-the-go. The renowned hardware site Tom's Hardware had a chance to test Thecus YES nano N1050 OTG Photo Bank. Here's what they had to say about this innovative device.
Tom's Hardware begins by introducing the N1050: "The N1050 is a device that allows you to insert a standard 2.5" Ultra ATA hard drive and use it as a portable storage device. The interesting part is that the N1050 has the flexibility to be used not only as a USB hard drive, but as a backup system for any portable USB devices like digital cameras or MP3 players. That's right: you can plug your digital device into the N1050's USB 2.0 port, press the copy button, and back up all of your data - no laptop is necessary."
The N1050 is not only powerful, but extremely easy to use: "The Thecus YES nano N1050 OTG has two modes of operation: normal USB drive mode, and copy data from USB devices mode. Normal USB drive mode is self-explanatory. The drive can be used as any other USB drive through the Windows file explorer interface. Copy data from USB devices mode is a little different. In this mode, the N1050 can connect to any USB storage device. To use this mode, simply plug the USB storage device - for instance, your digital camera - into the N1050's USB port. Then, press the copy button on the N1050. It's that simple. The entire volume of the camera will now be copied to the N1050."
The conclusion: "If you take a lot of pictures during your holidays without having a computer around, this device might be ideal for you: a cheap way to backup your pictures...if you're a professional photographer, or you simply have more than 4 GB of data to move around on a regular basis, the Thecus YES nano N1050 OTG is an attractive option. It seems to me that this product was made for fellows like me - tinkerers with a bunch of IDE drives lying around and nothing to do with them, who at the same time crave a cheap, sizable and portable backup drive."
For the full review, check out:
http://www.tomshardware.com/2006/10/02/thecus_yes_nano_n1050_otg/index.html

For more information on the Thecus N1050, check out: http://www.thecus.com/products_over.php?cid=1&pid=7
For more information on Thecus, go to: http://www.thecus.com
---
About Thecus
Thecus® Technology Corp. specializes in IP Storage Server solutions. The company was established in 2004 with the mission to make technology as transparent and easy-to-use as possible, and to make products that are not only the best on the market, but are accessible to experts and novices alike. With a best-in-class R&D team highly experienced in storage hardware and software and with a keen customer focus, Thecus® stays close to the market to develop high-quality products to fulfill the storage needs of today's world.
For more information, please visit the Thecus® website at: http://www.thecus.com
For sales and other inquiries, please contact us via email: sales@thecus.com