For sales inquiries,
please contact us at:


sales@thecus.com
For marketing inquiries, please contact us at:


marketing@thecus.com
2010-10-28
Add a vital level of security with a Mini-UPS
10/28/2010- Thecus NAS provide many ways of backing up your data. To ensure complete protection, you can use software backup, hardware backup, automatic or manual backup, comprehensive RAID support, and many variations of these. With all these tools you have the power to protect the information you hold dear. But what do you do when your power… goes out?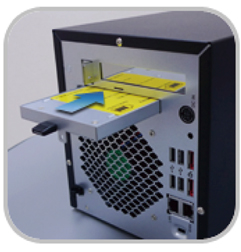 Thecus understands that this situation can have disastrous effects, so we've included a Mini-UPS for just this reason in our award winning N4200 NAS and its successor, the enormously powerful N4200PRO NAS. When the power is suddenly cut off to your NAS, the Mini-UPS kicks in to provide power to allow the NAS to keep functioning normally. Because many power outages only last a few moments, the NAS waits a few minutes before powering down safely, keeping your data safe and secure. A Mini-UPS is useful when you would expect it to be, like during a blackout or a power shortage, and also when you would least expect a problem. Sometimes the wrong chord gets unplugged, someone kicks a cable loose, or an ant problem shorts out your power strip! These unpredictable mishaps can never be completely accounted for, and that's why a Mini-UPS is so important for averting data loss before it happens.
*The Mini-UPS is supported by and included with the Thecus N4200 and N4200PRO.
Users who wish to learn more about the Thecus Mini-UPS can visit the Thecus Classroom. In the How-To section, users can find step-by-step guides as well as additional information on various features offered by Thecus NAS products.
---
About Thecus®
Thecus® Technology Corp. specializes in IP Storage Server solutions. The company was established in 2004 with the mission to make technology as transparent and easy-to-use as possible, and to make products that are not only the best on the market, but are accessible to experts and novices alike. With a best-in-class R&D team highly experienced in storage hardware and software and with a keen customer focus, Thecus® stays close to the market to develop high-quality products to fulfill the storage needs of today's world.
For sales inquiries, please contact us via email: sales@thecus.com
For marketing inquiries, please contact us via email: marketing@thecus.com