For sales inquiries,
please contact us at:


sales@thecus.com
For marketing inquiries, please contact us at:


marketing@thecus.com
2010-10-25
Multiple innovative features and strong performance earn whopping 9.0 score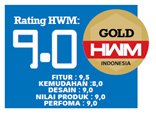 10/25/2010 –For those that value data security, the Thecus® N4200, with its many security features, should be on their shortlist. In their August 2010 issue, the editors of HWM Indonesia Magazine had the opportunity to take a close look at the N4200 to see if it was truly worthy of consideration. Once the dust settled, editors had no choice but to give it a final score of 9.0 out of 10, and their coveted Gold Award!
Once again, the N4200's mini-UPS doesn't fail to impress: "This latest product equipped with a 1000 mAh Lithium Polymer battery, power smaller than the battery used in most phone. It takes at least a half an hour of time for this battery to charge and it is able to survive up to a few minutes when power suddenly turned off and a warning 'beep' is sounded before N4200 is dead. Not long, but enough to secure your job. The battery is removable, but we do not see appropriate for any reason doing it."
A laundry list of features means that the N4200 can do it all: "Besides batteries, Thecus also provides various features in the N4200. FTP, Printer, Media, Web, and even Surveillance Camera servers are available here other than the standard features such as storage server, Hard drive Hotswap, RAID 5, and Encryption. You can even fill download links directly into the server so everything will take place without much intervention. During our testing, we did not find any problems with scheduling conflicts and this proves the N4200 stable and deserving of thumbs up."
The conclusion: "The Thecus N4200 read performance was 64.79MB/sec and 86.43MB/sec write when used in RAID 5, which it also supports... As usual, Thecus relies on including a lot of data security. Plus with its innovative battery, it makes the Thecus eligible to be a priority purchase."
For the full review, check out the August 2010 issue of HWM Indonesia Magazine.
For more information on the N4200, check out:
http://www.thecus.com/products_over.php?cid=10&pid=220&set_language=english
---
About Thecus®
Thecus® Technology Corp. specializes in IP Storage Server solutions. The company was established in 2004 with the mission to make technology as transparent and easy-to-use as possible, and to make products that are not only the best on the market, but are accessible to experts and novices alike. With a best-in-class R&D team highly experienced in storage hardware and software and with a keen customer focus, Thecus® stays close to the market to develop high-quality products to fulfill the storage needs of today's world.
For sales inquiries, please contact us via email: sales@thecus.com
For marketing inquiries, please contact us via email: marketing@thecus.com