For sales inquiries,
please contact us at:


sales@thecus.com
For marketing inquiries, please contact us at:


marketing@thecus.com
2010-10-20
It's not just an external hard disk - it's a mobile hard disk array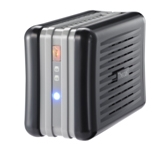 10/20/2010 – Global storage experts Thecus® Technology recently gave consumers even more storage options with the release of the D0204D, a deluxe version of the N0204 external storage device bundled with a USB 3.0 card. Taiwan's ComputerDIY Magazine focused their testing on the D2040D, and after going through a gamut of detailed tests, discovered that the D0204D is not only small and conveniently mobile, but it also has a number of features that users will fall in love with. Users who are looking to easily transfer and transport data around shouldn't miss this top-shelf external storage device.
With the ingeniously designed D0204D, users can enjoy the speed of USB 3.0 file transfers for a pittance: "The D0204 is not merely a 2.5" external hard disk enclosure, it's an external storage device with RAID capabilities. With the bundled 15W mini AC adapter, using it on the go is no trouble at all…The USB 3.0 interface is backwardly compatible with USB 2.0, and can even provide up to 900mA of current. When compared with the eSATA interface, this is a big advantage, allowing the external storage device to have extremely fast transfer speeds comparable with internal drives."
The conclusion from ComputerDIY: "The D0204 can accommodate two 2.5" hard disks and can even support SSDs, but don't think that it's just an external hard disk enclosure with two bays. The D0204 supports Clear, JBOD, RAID 0 and RAID 1, and provides 5Gbps of USB 3.0 bandwidth, allowing excellent performance numbers for RAID 0… With a small form factor and a small AC adapter, it is truly a convenient and mobile external hard disk array."
For the full review, check out the September 2010 issue of ComputerDIY Magazine or click below:
http://www.computerdiy.url.tw/index.php?option=com_content&view=article&id=116:rog-rampage-iii-gene-&catid=47:2010-06-30-02-39-29&Itemid=58
For more information on the Thecus® D0204D, check out:
http://www.thecus.com/products_over.php?cid=25&pid=248&set_language=english
---
About Thecus®
Thecus® Technology Corp. specializes in IP Storage Server solutions. The company was established in 2004 with the mission to make technology as transparent and easy-to-use as possible, and to make products that are not only the best on the market, but are accessible to experts and novices alike. With a best-in-class R&D team highly experienced in storage hardware and software and with a keen customer focus, Thecus® stays close to the market to develop high-quality products to fulfill the storage needs of today's world.
For sales inquiries, please contact us via email: sales@thecus.com
For marketing inquiries, please contact us via email: marketing@thecus.com