For sales inquiries,
please contact us at:


sales@thecus.com
For marketing inquiries, please contact us at:


marketing@thecus.com
2010-10-18
"The absolute highest numbers we have ever recorded on any NAS"
10/18/2010 – At the enterprise level, it's tough to beat the N8800PRO. This eight-bay behemoth from Thecus® Technology offers unmatched performance and flexibility in a 2U rackmount form factor. The editors of TweakTown put the N8800PRO on their test bench, and once they had a chance to test it, found that its performance was truly in a class of its own. In the end, TweakTown awarded the N8800PRO a final rating of 91% and their Must Have Editor's Choice Award!
Enterprise NAS devices need to be very well equipped, and the N8800PRO is no exception: "The hardware specification list is very impressive and has everything you would expect to see in a flagship NAS from one of the world's leading NAS builders. The heart of the system is an Intel Core2 Duo processor that is fed data from 4GB of DDR2 memory."
Does the hardware translate into better performance? "The Thecus N8800PRO is able to record HD video as fast as any other NAS we have ever tested. This would be a really good unit for recording video streams from multiple sources, or recording to/from media center computers…The real stand out area for the Thecus N8800PRO was the Office Productivity tests. Here we see the absolute highest numbers we have ever recorded on any NAS. That makes the Thecus N8800PRO the best NAS we have ever seen for office use, where the users are working with typical office documents like Word, Excel and so forth…When it comes to copying files, we see that the N8800PRO's fast processor and large amount of memory does a really good job of allowing the NAS to copy raw files to and from the system."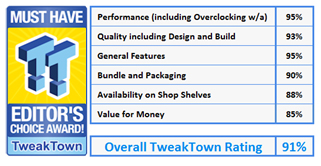 The conclusion: "The Thecus N8800PRO is a full on enterprise class NAS server that is designed for big business or situations where several users need to access data at the same time. With a fast processor and 4GB of memory, the N8800 Pro is able to perform faster than most, if not all other systems on the market."
For the full review, check out:
http://www.tweaktown.com/reviews/3536/thecus_n8800_pro_8_drive_rackmount_nas/index.html
For more information on the N8800PRO, check out:
http://www.thecus.com/products_over.php?cid=11&pid=199&set_language=english
---
About Thecus®
Thecus® Technology Corp. specializes in IP Storage Server solutions. The company was established in 2004 with the mission to make technology as transparent and easy-to-use as possible, and to make products that are not only the best on the market, but are accessible to experts and novices alike. With a best-in-class R&D team highly experienced in storage hardware and software and with a keen customer focus, Thecus® stays close to the market to develop high-quality products to fulfill the storage needs of today's world.
For sales inquiries, please contact us via email: sales@thecus.com
For marketing inquiries, please contact us via email: marketing@thecus.com