For sales inquiries,
please contact us at:


sales@thecus.com
For marketing inquiries, please contact us at:


marketing@thecus.com
2010-10-11
Zero-crash four-bay NAS dominates with superior performance and security

10/11/2010 – The editors of Tech World Sweden recently held a massive NAS roundup featuring NAS units from nine different manufacturers, including Thecus®' all-star N4200. But when all was said and done, the N4200 came out on top, trouncing the competition with an unbeatable combination of features, security and performance!
Here's the conclusion: "The Thecus N4200 has the best performance, is not expensive, has built-in functions and is also simple and easy to administer. It is not quite as flashy as NAS products from Qnap and Synology, but safety features and extensibility give it a big plus in points. The Thecus N4200 is a winner in our test. The QNAP TS-559 Pro and Synology Disk Station DS1010+ also gets high marks, but especially the former is considerably more expensive to buy. The Netgear Ready NAS NVX trails closely behind."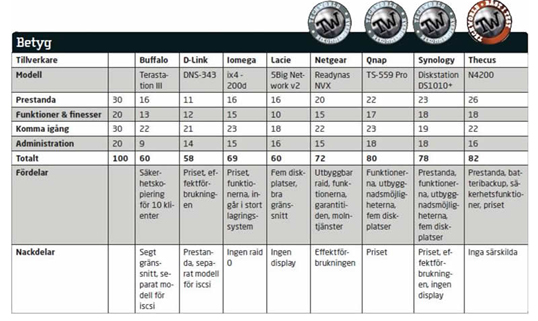 For the full review, check out Tech World Magazine 2010 8th Issue.
For more information on the N4200, check out:
http://www.thecus.com/products_over.php?cid=10&pid=220&set_language=english
---
About Thecus®
Thecus® Technology Corp. specializes in IP Storage Server solutions. The company was established in 2004 with the mission to make technology as transparent and easy-to-use as possible, and to make products that are not only the best on the market, but are accessible to experts and novices alike. With a best-in-class R&D team highly experienced in storage hardware and software and with a keen customer focus, Thecus® stays close to the market to develop high-quality products to fulfill the storage needs of today's world.
For sales inquiries, please contact us via email: sales@thecus.com
For marketing inquiries, please contact us via email: marketing@thecus.com