For sales inquiries,
please contact us at:


sales@thecus.com
For marketing inquiries, please contact us at:


marketing@thecus.com
2010-09-27
Russian, Spanish and Portuguese Now Available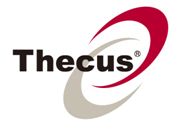 09/27/2010 – From the very beginning, Thecus® Technology has aimed to bring quality digital storage solutions to users all over the world. Today, Thecus® is pleased to announce three new languages – Spanish, Russian and Portuguese – on its official homepage. Beginning from now, users who speak these languages will be able to more easily browse and learn about Thecus® products, find out about Thecus® events, and read Thecus® news and announcements.
From humble beginnings in 2004, Thecus® Technology has now grown into a major force in the storage market. Thecus® products are now available worldwide. This latest effort to add additional languages to the Thecus® homepage is part of Thecus' commitment to total ease-of-use, which extends throughout the entire user experience. Now, users familiar with Russian, Spanish or Portuguese will feel right at home on Thecus.com.
Here is a new list of available languages on Thecus' homepage:
· English
· Traditional Chinese
· Simplified Chinese
· German
· French
· Italian
· Korean
· Japanese
· Russian (NEW)
· Spanish (NEW)
· Portuguese (NEW)
"We are excited to be able to offer these three new languages on Thecus.com," said Florence Shih, Thecus® Technology General Manager. "With this new addition, we are one step closer to achieving our goal of total ease-of-use for all customers around the world, and we will continue to make improvements for all Thecus® users in the near future."
---
About Thecus®

Thecus® Technology Corp. specializes in IP Storage Server solutions, including Network Attached Storage (NAS) , DAS, External Storage and Wireless Media NAS (Bank ) products. The company was established in 2004 with the mission to make technology as transparent and easy-to-use as possible, and to make products that are not only the best on the market, but are accessible to experts and novices alike. With a best-in-class R&D team highly experienced in storage hardware and Linux software and with a keen customer focus, Thecus® stays close to the market to develop high-quality products to fulfill the storage Server needs of today's world.
For sales inquiries, please contact us via email:
sales@thecus.com
For marketing inquiries, please contact us via email:
marketing@thecus.com