For sales inquiries,
please contact us at:


sales@thecus.com
For marketing inquiries, please contact us at:


marketing@thecus.com
2006-08-15
"The new generation digital family entertainment center"

08/15/2006 – Combining unmatched convenience and a laundry list of impressive features at a reasonable price, the YES Box N2100 NAS Device from storage solution leader Thecus Technology gives both home and SOHO users a headache-free way to share, store, and manage their data. Computer DIY Magazine recently took a look at the N2100, and was very impressed with its functionality, simplicity, and overall design.
Sleek Design – Easy Installation
"The shape of the N2100 reminds this editor of the Apple Mac Mini – the simplistic styling and superb build quality are excellent, and fits equally well in a study or family room. Setting up the N2100 is extremely simple. With room for two 3.5" hard disks, N2100 users only have to tighten a few screws, connect the SATA hard disks to the unit, plug in the power and network cables, and the N2100 is ready to go – very convenient."
Impressive Features – Simple to Use
"Like the exterior, the N2100's interface is extremely simple. Just a few simple wizards, and the user is able to share pictures and music over the network. Some basic features include file sharing, an FTP server, an iTunes server, and one-button quick copy."
BitTorrent Downloading – Blog Management
"Aside from the basics, the N2100 has listened to PC enthusiasts, and includes the ever-popular BitTorrent file transfer protocol and even blog management. The integrated BT downloading feature is easy to set up, and is ideal for both home users and students who transfer files over the BT network. The N2100 is especially designed with the user in mind, as users can continue downloads uninterrupted when their main computer is shut off. The N2100 even comes equipped with a blog management feature. After entering the blog management interface, users can easily update their blog and include their favorite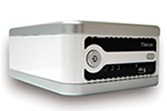 files to add their own personal touch to cyberspace."
The conclusion: "Whether it's the stylish exterior, impressive features, or easy-to-use interface, the N2100 is a hassle-free way for users to easily share and manage their files – an invaluable component of the digital lifestyle."
To read the full review, checkout the August 2006 issue of Computer DIY Magazine, p.208~209
For more on Thecus Technology, log onto: http://www.thecus.com/
---
About Thecus
Thecus® Technology Corp. specializes in IP Storage Server solutions. The company was established in 2004 with the mission to make technology as transparent and easy-to-use as possible, and to make products that are not only the best on the market, but are accessible to experts and novices alike. With a best-in-class R&D team highly experienced in storage hardware and software and with a keen customer focus, Thecus® stays close to the market to develop high-quality products to fulfill the storage needs of today's world.
For more information, please visit the Thecus® website at: http://www.thecus.com
For sales and other inquiries, please contact us via email: sales@thecus.com