For sales inquiries,
please contact us at:


sales@thecus.com
For marketing inquiries, please contact us at:


marketing@thecus.com
2010-08-30
"The most powerful NAS device we've reviewed to date"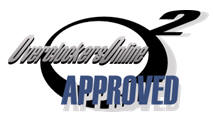 08/30/2010- With all the encouraging reviews pouring in for the new Thecus N7700PRO NAS, we were excited to see it on the front page of OverclockersOnline with an overwhelmingly positive analysis. After careful assessment, this internationally respected consumer review site was full of complements for the N7700PRO's incredible performance and features. They wasted no time in stamping it with their seal of approval!
Starting with a brief introduction, the review highlights some of the more general strengths of the N7700PRO: "Relatively low cost, high capacity and highly capable network solutions like Thecus' N7700PRO especially attractive among those looking at replacing yesterday's expensive, clumsy file servers."
After that brief introduction, the review jumps right into what separates the N7700PRO from the competition. First and foremost, it's a database powerhouse: "The N7700PRO is a robust platform. With today's 2TB drives, in RAID 5 the N7700PRO can host a 12TB array and that's simply something that carries some weight. The system is powered by a Core 2 Duo CPU and is outfitted with 4GB of RAM making it the most powerful NAS device we've reviewed to date."
In conclusion, they clearly showed the strength of the N7700PRO versus the competition in performance and value: "...one of the N7700PRO's strongest points is value. For a seven bay unit of this caliber of hardware, $1000 dollar is an incredibly attractive package. More than hardware though, the N7700PRO and more generally, network attached storage devices for that sake are finding themselves more and more replacing basic servers. At only a portion of the cost, a NAS can not only out feature but also out perform."
For the full review, check out:
http://www.overclockersonline.net/reviews/thecus-n7700pro-network-attached-storage/
For more information on the N7700PRO, check out:
http://www.thecus.com/products_over.php?cid=11&pid=198&set_language=english
---
About Thecus
®
Thecus® Technology Corp. specializes in IP Storage Server solutions, including Network Attached Storage (
NAS
) , DAS, External Storage and Wireless Media
NAS
(Bank ) products. The company was established in 2004 with the mission to make technology as transparent and easy-to-use as possible, and to make products that are not only the best on the market, but are accessible to experts and novices alike. With a best-in-class R&D team highly experienced in storage hardware and Linux software and with a keen customer focus, Thecus® stays close to the market to develop high-quality products to fulfill the storage Server needs of today's world.
For sales inquiries, please contact us via email:
sales@thecus.com
For marketing inquiries, please contact us via email:
marketing@thecus.com