For sales inquiries,
please contact us at:


sales@thecus.com
For marketing inquiries, please contact us at:


marketing@thecus.com
2010-08-19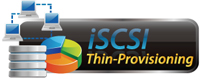 08/19/2010 – IT administrators are constantly looking for new ways to allocate storage to optimize overall hardware utilization. For that, Thecus, the Creator in Storage, has the ideal solution; the advanced iSCSI Thin-Provision feature is currently supported on wide range of Thecus NAS servers, offering business of all scales a flexible yet cost effect storage resource management solution.
The advanced iSCSI Thin-Provision support allows administrators to create up to 5 iSCSI Thin-Provision targets under one iSCSI Thin-Provision volume on Thecus NAS servers. These iSCSI targets will share physical storage space from the iSCSI Thin-provision volume. Administrators can allocate virtual storage space on these iSCSI targets that will only take up physical storage space when they are actually needed. A notification will be sent to when 90% of the physical iSCSI Thin-Provision volume has been utilized, and the administrator can then decide whether or not to expand the physical storage space. iSCSI Thin-Provision support prevents administrators from over provisioning physical storage space before it is actually needed, thus greatly reducing capital spending on storage for businesses of all scales.
Users who wish to learn more about the advanced iSCSI Thin-Provision feature can visit the Thecus Classroom. In our how-to section, users can find step-by-step guides as well as additional information on various features offered by Thecus NAS products.
---
About Thecus
®
Thecus® Technology Corp. specializes in IP Storage Server solutions, including Network Attached Storage (
NAS
) , DAS, External Storage and Wireless Media
NAS
(Bank ) products. The company was established in 2004 with the mission to make technology as transparent and easy-to-use as possible, and to make products that are not only the best on the market, but are accessible to experts and novices alike. With a best-in-class R&D team highly experienced in storage hardware and Linux software and with a keen customer focus, Thecus® stays close to the market to develop high-quality products to fulfill the storage Server needs of today's world.
For sales inquiries, please contact us via email:
sales@thecus.com
For marketing inquiries, please contact us via email:
marketing@thecus.com