For sales inquiries,
please contact us at:


sales@thecus.com
For marketing inquiries, please contact us at:


marketing@thecus.com
2006-08-03
Good performance, functionality and quiet operation impresses editors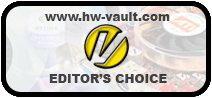 08/03/06 – As the cost-effective NAS solution, the Thecus N4100 has been popular with both business and the hardware community alike since its introduction. The latest review comes from Hardware Vault, whose editors liked it so much, they decided to give the N4100 their Editor's Choice Award!
Hardware Vault was pleased with how the Thecus N4100 was designed: "Using Thecus N4100, we can see the various practical and reliable functions in it. The noise generated by the N4100 is quiet small, and will be totally covered by any PC systems near by. This is because of the 90mm fan in the rear that as a result produces optimal CFM. The fan diminishes heat properly. On Thecus' product specifications, it shows that N4100 can only support up to 500GB HDD. Actually, it can support 750GB HDDs for a total capacity of up to 3TB. Even using RAID 5, the effective capacity is up to 2.25TB."
But what about performance and price? "Regarding the performance of N4100, it is outstanding in daily operation. The result of the N4100 transferring data is more than sufficient. When you are doing data backup, the system operation will not be disturbed and execution time is not a problem either. Using Western Digital Raptor 10,000 RPM HDDs, it can even boost performance to another level. Regarding the price, you can get one N4100 for about EUR 600 online."
The Thecus N4100 NAS Appliance
The verdict: "For the reasons listed above, I give Thecus N4100 our Editor's Choice Award as a good NAS product."
Positive Aspects
RAID 5, 1, 0 and JBOD

Watertight closing of the hard disk

Dual LAN ports

Optimal configuration console

Supports Web Disk

Quiet operation

Good data transfer performance

Support of all sizes of hard disks, in particular 500 and 750 GB
For the full review, check out: http://www.hw-vault.com/articolo/148/1.html
For more information on the Thecus N4100, check out: http://www.thecus.com/products_over.php?cid=1&pid=2
---
About Thecus

Thecus® Technology Corp. specializes in IP Storage Server solutions. The company was established in 2004 with the mission to make technology as transparent and easy-to-use as possible, and to make products that are not only the best on the market, but are accessible to experts and novices alike. With a best-in-class R&D team highly experienced in storage hardware and software and with a keen customer focus, Thecus® stays close to the market to develop high-quality products to fulfill the storage needs of today's world.
For more information, please visit the Thecus® website at:
http://www.thecus.com
For sales and other inquiries, please contact us via email:
sales@thecus.com