For sales inquiries,
please contact us at:


sales@thecus.com
For marketing inquiries, please contact us at:


marketing@thecus.com
2006-08-01
Added features and multiple RAID modes earn near-perfect rating
8/1/2006 – Easy to install and use, the YES Box N2100 is the friendly NAS device that packs excellent data management features in its diminutive casing. The latest review comes from the folks from Personal Computer Magazine who had the opportunity to test this unit. After a series of rigorous tests, the editors at PCM were very impressed with the YES Box, awarding it a near-perfect rating of 4.5 out of 5 stars, citing simple installation, added features, and multiple RAID modes.
PCM editors begin by describing the YES Box N2100: "Storage on NAS is a great solution for those with more than one computer at home. With inexpensive Ethernet networking and the market penetration of ADSL and cable, chances are that there is already a router tucked away somewhere. So what makes the Thecus' YES Box special? For those who are on their computers 24 hours a day, a NAS solution is a great way to always have access to important files, music, and films. The hard disk is connected to the network, and all computers on the network can access it. Accessing the NAS from a distance is also possible thanks to FTP or web access."
Editors loved the added features of the N2100: "The large advantage of the N2100 is that the integrated FTP server works with the user management system instead of giving complete access, unlike some of the other solutions that we've seen. Therefore, it is very possible to grant FTP access to some files and deny access to others. Besides the FTP server, the N2100 also provides a Photo Web Server, which can be used as a simple photo album. Finally, we also have iTunes server functionality so that music can be played anywhere on the network through iTunes."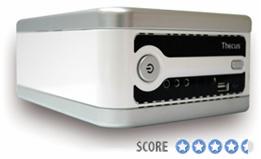 The verdict? "The Thecus YES Box N2100 is an excellent NAS solution with great features such as the web photo album and the built-in iTunes server. Also, the well-designed user management system makes working with the N2100 easy. Two Gigabit connections round out the whole package."
Pros:
+ Simple installation+ Two Gigabit connections+ RAID 0, 1 and JBOD
For the full review, check out the PCM website:
http://www.pcmagazine.nl/hardware_review.jsp?productid=1056
For more information on the Thecus YES Box N2100, check out:
http://www.thecus.com/products_over.php?cid=1&pid=1
For more information on Thecus, go to:
http://www.thecus.com/
---
About Thecus
Thecus® Technology Corp. specializes in IP Storage Server solutions, including Network Attached Storage (NAS) and Wireless Media Bank products. The company was established in 2003 with the mission to make technology as transparent and easy-to-use as possible, and to make products that are not only the best on the market, but are accessible to experts and novices alike. With a best-in-class R&D team highly experienced in storage hardware and software and with a keen customer focus, Thecus® stays close to the market to develop high-quality products to fulfill the storage needs of today's world.
For more information, please visit the Thecus® website at: http://www.thecus.com
For sales and other inquiries, please contact us via email: sales@thecus.com