For sales inquiries,
please contact us at:


sales@thecus.com
For marketing inquiries, please contact us at:


marketing@thecus.com
2010-08-05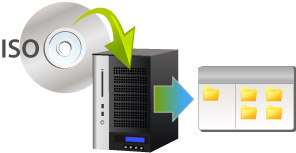 08/05/2010 – In the digital era, many people are archiving their digital data, such as movie collections, photos and software programs into ISO image files. ISO image files are uncompressed copies of archived CDs, DVDs, or other disk formats. The benefit of archiving digital data in ISO image files is that users no longer need to worry about making up space to store physical disks. Furthermore, ISO image files can also be easily managed and distributed via Internet or local area network.
The ISO Mount feature is currently supported on Thecus' complete range of NAS products. The ISO mount feature allows users to store and mount up to fifty ISO 9660 image files on their Thecus NAS. Once an ISO image file has been mounted, the system will automatically create a new folder and all the files contained in the ISO image file will be extracted and stored in that particular folder, users can then access these files at anytime without the need to use other third party software to extract them - simple and convenient.
Users who wish to learn more about Thecus ISO Mount feature can visit the Thecus Classroom. In our how-to section, users can find step-by-step guides as well as additional information on various features offered by Thecus NAS products.
---
About Thecus
®
Thecus® Technology Corp. specializes in IP Storage Server solutions, including Network Attached Storage (
NAS
) , DAS, External Storage and Wireless Media
NAS
(Bank ) products. The company was established in 2004 with the mission to make technology as transparent and easy-to-use as possible, and to make products that are not only the best on the market, but are accessible to experts and novices alike. With a best-in-class R&D team highly experienced in storage hardware and Linux software and with a keen customer focus, Thecus® stays close to the market to develop high-quality products to fulfill the storage Server needs of today's world.
For sales inquiries, please contact us via email:
sales@thecus.com
For marketing inquiries, please contact us via email:
marketing@thecus.com