For sales inquiries,
please contact us at:


sales@thecus.com
For marketing inquiries, please contact us at:


marketing@thecus.com
2006-07-20
Hats off to Thecus for its new, fast NAS
07/20/2006 – With powerful data security features, superb performance and ease-of-use, the Thecus N5200 is the ultimate network storage solution. This five-bay powerhouse has begun to make the rounds with the hardware community, and the first review comes from the good folks at HEXUS. Citing superb build quality, easy installation, robust features, and fast performance, HEXUS editors found it fitting to bestow its Executive Speed Award to the all-new N5200!
HEXUS was blown away with the N5200's build quality: "Closer inspection of the PSU reveals that it's a Seasonic 1U 200W model with Active PFC. We doubt it's being fully stretched during use, so power consumption is going to be quite good for this little NAS box...Once again it's another solidly constructed piece of kit from Thecus. The company's lower-end plastic-cased NAS and DAS solutions are fairly sturdy, but its more expensive SKU justifies itself with superb build quality."
Installation so easy, anyone could do it: "Physical installation is fairly simple. Install the hard drives, plug it in, turn it on. Got that? Right, next step. Configuration of networking devices can be fun when you've no idea what subnet they're running, let alone what IP. Thecus has that covered with their setup wizard. It'll find any Thecus devices within reach of the host computer's network adapters, then allow basic configuration, including password, IP, service and RAID setup...All in all, it's got a nice feature set and the access controls make it suitable for use in even a larger-sized business."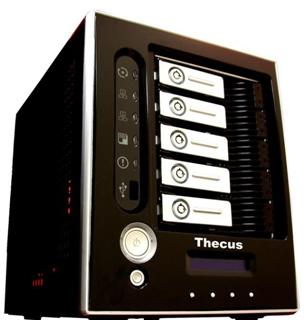 Here's HEXUS thought on the performance of the N5200: "So, if you were to ask us if the N5200 was fast, we'd say yes. Fast enough for an SME? Yes, we reckon so. Fast enough for one serious digital home freak? Indeed. Props to Thecus for switching to the Celeron M processor and giving its NAS the performance boost it so desperately needed."
The verdict? "Thecus has always had well-built NAS boxes. Now it has a great-performing one too. In light of this, we're adamant that the Thecus N5200 deservers the speed award in our Executive category… hats off to Thecus for its new, fast NAS."
To read the full review, check out:
http://www.hexus.net/content/item.php?item=6181&page=1
For more information on the Thecus N5200, check out:
http://www.thecus.com/products_over.php?cid=1&pid=8
For more information on Thecus, go to:
http://www.thecus.com/
---
About Thecus

Thecus® Technology Corp. specializes in IP Storage Server solutions, including Network Attached Storage (NAS) and Wireless Media Bank products. The company was established in 2003 with the mission to make technology as transparent and easy-to-use as possible, and to make products that are not only the best on the market, but are accessible to experts and novices alike. With a best-in-class R&D team highly experienced in storage hardware and software and with a keen customer focus, Thecus® stays close to the market to develop high-quality products to fulfill the storage needs of today's world.
For more information, please visit the Thecus® website at:
http://www.thecus.com
For sales and other inquiries, please contact us via email:
sales@thecus.com