For sales inquiries,
please contact us at:


sales@thecus.com
For marketing inquiries, please contact us at:


marketing@thecus.com
2006-07-18
On-the-go digital storage just got a lot more colorful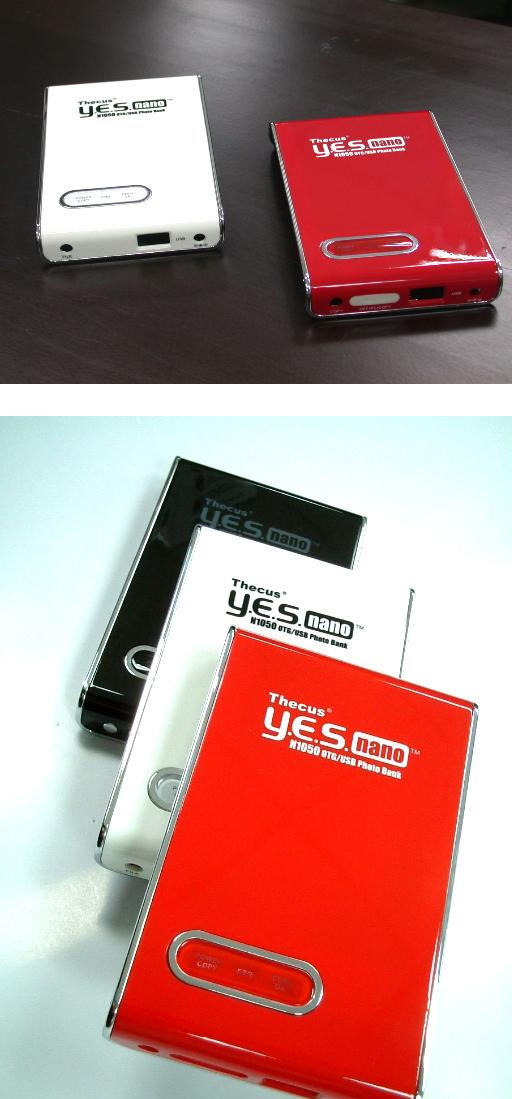 07/18/2006 – Since the launch of the Thecus YES nano N1050 OTG Photo Bank, users have been unleashing their creativity on the road. No longer constrained by the size of their memory cards, YES nano users can take photos and movies on-the-go without limits. Due to popular demand, Thecus announced today the YES nano N1050 Red and White Editions – two hot new colors for this incredible digital storage device. Now, users can choose the color that suits their personality, making the YES nano N1050 friendlier than ever.
Housing a standard 2.5" hard disk, the YES nano N1050 enables storage of 100GB or more in a device that easily slips into a purse or coat pocket. With nearly limitless storage available on the road, users can take pictures, record movies, or bring thousands of MP3s with them at all times. On-the-go backup is a simple as it gets. Users just plug in their device to the YES nano N1050, and press a button – no computer needed! The included external battery pack even accepts standard, readily-available AA batteries. Easy-to-use and carry, the YES nano N1050 is the perfect travel companion.
Customizable storage means that users can select the storage capacity that's best for them. A budding professional photographer? Slap in a 60GB hard disk and you are good to go. Multimedia mogul? Install a 100GB hard disk and keep your entire digital media collection with you. With one-touch copy, all the files from your digital camera or camcorder are backed up, allowing you to keep on shooting. USB connectivity enables speedy data transfers, while the included carrying case helps protect your YES nano N1050 from everyday wear.
"People have been given the power to use their digital devices more often on the road with the YES nano N1050," notes Thecus CEO Edwin Lin. "With powerful features and two hot new colors, the YES nano N1050 is a perfect gift for those who require a large storage capacity on the go."
For more information on the Thecus YES nano N1050, go to:
http://www.thecus.com/products_over.php?cid=1&pid=7
For more information on Thecus, go to: http://www.thecus.com/
---
About Thecus
Thecus® Technology Corp. specializes in IP Storage Server solutions. The company was established in 2004 with the mission to make technology as transparent and easy-to-use as possible, and to make products that are not only the best on the market, but are accessible to experts and novices alike. With a best-in-class R&D team highly experienced in storage hardware and software and with a keen customer focus, Thecus® stays close to the market to develop high-quality products to fulfill the storage needs of today's world.
For more information, please visit the Thecus® website at: http://www.thecus.com/
For sales and other inquiries, please contact us via email: sales@thecus.com