For sales inquiries,
please contact us at:


sales@thecus.com
For marketing inquiries, please contact us at:


marketing@thecus.com
2010-08-02
"It's the quickest NAS ever to hit our test bench"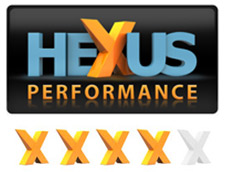 08/02/2010 – Filled to the brim with powerful features and blazing speed, the 10GbE ready Thecus® N7700PRO takes the definition of "performance NAS" to the next level. Hardware authority HEXUS.net recently brought the seven-bay powerhouse into their test labs to see if the N7700PRO could really deliver. After putting it through some serious benchmarks, Hexus confirmed that the N7700PRO is in a class by itself, stating that "…the N7700PRO the fastest NAS solution we've ever tested." In the end, they awarded it a final score of 4 out of 5 and their coveted Performance Award!
The N7700PRO pulls no punches when it comes to performance: "Joining Thecus's growing range of N7700 models, the PRO release offers very good out-the-box performance and opens the door to super-fast network storage. When equipped with an Intel 10GbE NIC, read and write performance increases dramatically; enough so to make the N7700PRO the fastest NAS solution we've ever tested."
Plenty of storage and an excellent interface comes standard: "Ample storage is available through the unit's seven bays - there's also further scope for stacked expansion - and the target enterprise market is well catered for with iSCSI support, multiple file systems and compatibility with Windows, Mac and Linux clients."
Here's the HEXUS verdict: "A 10GbE network infrastructure won't come cheap, but if you're in need of expansive storage capacity and impressive performance in a relatively small box, Thecus's N7700PRO fits the bill."
The Good:
· Only sub-£1,000 NAS to offer 10GbE functionality
· Excellent data transfer rates over fibre
· Plenty of storage capacity, with ample scope for stacked expansion

For the full review, check out:
http://www.hexus.net/content/item.php?item=25515&page=1
For more information on the N7700PRO, check out:
http://www.thecus.com/products_over.php?cid=10&pid=220
---
About Thecus
®
Thecus® Technology Corp. specializes in IP Storage Server solutions, including Network Attached Storage (
NAS
) , DAS, External Storage and Wireless Media
NAS
(Bank ) products. The company was established in 2004 with the mission to make technology as transparent and easy-to-use as possible, and to make products that are not only the best on the market, but are accessible to experts and novices alike. With a best-in-class R&D team highly experienced in storage hardware and Linux software and with a keen customer focus, Thecus® stays close to the market to develop high-quality products to fulfill the storage Server needs of today's world.
For sales inquiries, please contact us via email:
sales@thecus.com
For marketing inquiries, please contact us via email:
marketing@thecus.com