For sales inquiries,
please contact us at:


sales@thecus.com
For marketing inquiries, please contact us at:


marketing@thecus.com
2010-07-30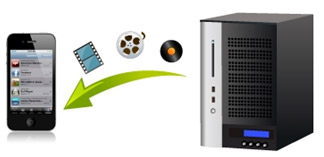 07/30/2010 – Thecus' complete range of innovative NAS products are equipped with powerful multimedia functions which are ideal for use as a home media centre to store and protect media files. Furthermore, users are able to stream media files directly from their Thecus NAS via a DMA (Digital Media Player) and play them on TV, right in the comfort of their living room. Now, users also have the option to wirelessly play and share multimedia files from their Thecus NAS using an iPhone, iPod touch or iPad and enjoy a whole new mobile media experience.
Playing and sharing multimedia files from Thecus NAS on an iPhone, iPod touch or iPad is really simple. All you have to do is install media player applications like 8player or Media Link Player Lite on your iPhone, iPod touch or iPad. Once installed, you can search and connect to your Thecus NAS on the network and stream music, photos or movies using a Wi-Fi connection and play these files anywhere in your house. Whether you are lying on the bed, drinking tea in the garden, or having lunch in the dining room, enjoying your media files just doesn't get any easier than this.
*8player and Media Link Player Lite is currently available at Apple Store.
http://www.apple.com/itunes/
---
About Thecus
®
Thecus® Technology Corp. specializes in IP Storage Server solutions, including Network Attached Storage (
NAS
) , DAS, External Storage and Wireless Media
NAS
(Bank ) products. The company was established in 2004 with the mission to make technology as transparent and easy-to-use as possible, and to make products that are not only the best on the market, but are accessible to experts and novices alike. With a best-in-class R&D team highly experienced in storage hardware and Linux software and with a keen customer focus, Thecus® stays close to the market to develop high-quality products to fulfill the storage Server needs of today's world.
For sales inquiries, please contact us via email:
sales@thecus.com
For marketing inquiries, please contact us via email:
marketing@thecus.com