For sales inquiries,
please contact us at:


sales@thecus.com
For marketing inquiries, please contact us at:


marketing@thecus.com
2010-07-23
07/23/2010 – Thecus NAS products are designed not only to be powerful and flexible, but easy-to-use. With Thecus ADS/NT support, companies that have deployed an AD (Active Directory) or Windows NT server to handle domain security can import users and groups directly from AD or Windows NT server into the Thecus NAS simply and conveniently.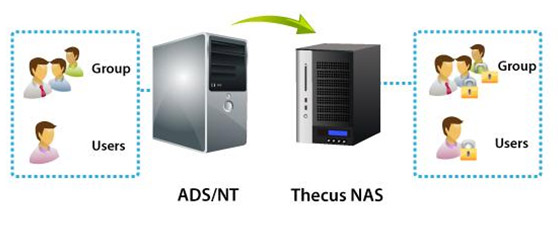 Importing existing domain users and groups into the Thecus NAS greatly reduces the time for NAS administrators to create multiple users and groups. Once imported, domain users will be able to login to the Thecus NAS with the same username and password on the AD or Window NT server. Furthermore, NAS administrators can also grant access rights (deny, read only or writable) to shared folders and subfolders of these domain users and groups on the Thecus NAS for added security.
Users who wish to learn more about Thecus ADS/NT support can visit the Thecus Classroom. In our how-to section, users can find step-by-step guides as well as additional information on various features offered by Thecus NAS products.
---
About Thecus
®
Thecus® Technology Corp. specializes in IP Storage Server solutions, including Network Attached Storage (
NAS
) , DAS, External Storage and Wireless Media
NAS
(Bank ) products. The company was established in 2004 with the mission to make technology as transparent and easy-to-use as possible, and to make products that are not only the best on the market, but are accessible to experts and novices alike. With a best-in-class R&D team highly experienced in storage hardware and Linux software and with a keen customer focus, Thecus® stays close to the market to develop high-quality products to fulfill the storage Server needs of today's world.
For sales inquiries, please contact us via email:
sales@thecus.com
For marketing inquiries, please contact us via email:
marketing@thecus.com