For sales inquiries,
please contact us at:


sales@thecus.com
For marketing inquiries, please contact us at:


marketing@thecus.com
2010-07-19
Editors give Zero-Crash NAS a 9 out of 10 overall score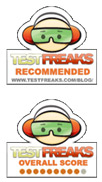 07/19/2010 – Thecus®' four-bay N4200 continues to dominate the NAS charts, and over at TestFreaks, editors were eager to tear into it to see if it truly lived up to all the hype. After taking a close look at the Zero-Crash NAS, editors saw no choice but to give it the TestFreaks Recommended Award and a final overall score of 9 out of 10!
TestFreaks starts with a short introduction to the unit: "The N4200 has some other great features as well like the built-in battery backup system, along with dual displays on the front for monitoring system status and even for changing some of the settings without having to login to the admin section. The N4200 is fast, one of the fastest NAS boxes I've taken a look at, but it's got plenty of other features going for it as well..."
For performance, the N4200 is tops: "So the Thecus N4200 is fast here, it clearly bests the other boxes, especially in the Transfer From Test, look at that average speed there. The Thecus N4200 slowed down a bit on the Transfer from, but it was the fastest at transferring to the box, which is what you really want as you're using the box to store files on."
Here's the verdict from TestFreaks: "Thecus makes some excellent products, I know this from firsthand experience as I've had a Thecus NAS box running 24/7 for well over a year now and have never one issue with it, besides running out of space, but that's my fault…The Thecus N4200 is a stable unit that will satisfy even the most demanding work environments, and users. The Intel Atom dual core CPU and the 1gig of ram work well together to insure smooth and fast transfers across the board. The built in security features are an extra added bonus and a welcome one, the N4200 is truly a Zero-Crash NAS box. If you're looking for a NAS box that's full of features and has excellent performance then I can recommend the N4200 easily."
Pros:
· Fast transfers
· Battery backup
· Good security features
· Good temperatures
· Can control basic functions through display
For the full review, check out:
http://www.testfreaks.com/blog/review/review-of-thecus-n4200-zero-crash-with-dual-power-nas/
For more information on the N4200, check out:
http://www.thecus.com/products_over.php?cid=10&pid=220
---
About Thecus
®
Thecus® Technology Corp. specializes in IP Storage Server solutions, including Network Attached Storage (
NAS
) , DAS, External Storage and Wireless Media
NAS
(Bank ) products. The company was established in 2004 with the mission to make technology as transparent and easy-to-use as possible, and to make products that are not only the best on the market, but are accessible to experts and novices alike. With a best-in-class R&D team highly experienced in storage hardware and Linux software and with a keen customer focus, Thecus® stays close to the market to develop high-quality products to fulfill the storage Server needs of today's world.
For sales inquiries, please contact us via email:
sales@thecus.com
For marketing inquiries, please contact us via email:
marketing@thecus.com