For sales inquiries,
please contact us at:


sales@thecus.com
For marketing inquiries, please contact us at:


marketing@thecus.com
2010-07-15
07/15/2010 – Thecus' wide range of NAS servers are iSCSI Ready, offering businesses of all scales with the flexibility, scalability and expandability needed to stay competitive. iSCSI (Internet Small Computer System Interface) is an IP-based protocol used to link data storage devices. One of the major benefits of iSCSI is that it requires no dedicated cable like fiber channel and can be run over existing network infrastructures, greatly reducing IT expenditure for modern businesses.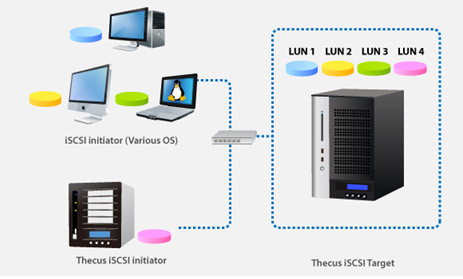 Thecus iSCSI NAS servers allow users to create iSCSI target volumes on their Thecus NAS. These volumes can be added to desktop or laptop computers as a local physical hard drive, which can then be utilized as extra storage space or used to install and run various applications. iSCSI target volumes are created based on existing RAID arrays from the Thecus NAS, making it perfect for use as a backup destination with the protection of Thecus RAID technology. Whenever the need arises to expand storage capacity, up to 5 Thecus NAS devices can be stacked together using the built-in iSCSI initiator. Furthermore, data can be accessed via a single NAS for added convenience and flexibility.
Users who wish to learn more on Thecus iSCSI can visit the Thecus Classroom. In our how-to section, users can find step-by-step guides as well as additional information on various features offered by Thecus NAS products.
---
About Thecus
®
Thecus® Technology Corp. specializes in IP Storage Server solutions, including Network Attached Storage (
NAS
) , DAS, External Storage and Wireless Media
NAS
(Bank ) products. The company was established in 2004 with the mission to make technology as transparent and easy-to-use as possible, and to make products that are not only the best on the market, but are accessible to experts and novices alike. With a best-in-class R&D team highly experienced in storage hardware and Linux software and with a keen customer focus, Thecus® stays close to the market to develop high-quality products to fulfill the storage Server needs of today's world.
For sales inquiries, please contact us via email:
sales@thecus.com
For marketing inquiries, please contact us via email:
marketing@thecus.com