For sales inquiries,
please contact us at:


sales@thecus.com
For marketing inquiries, please contact us at:


marketing@thecus.com
2010-07-12
"The Thecus N5500 is undoubtedly a very good choice"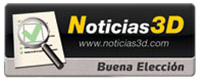 07/12/2010 – The five-bay N5500 from storage innovator Thecus® Technology is a business-class NAS with all the bells and whistles one would expect from one of the leaders of digital storage. In their latest review, Noticias3D took one of these units into their test labs to see how it performed. Overall, Noticias3D editors were blown away by the performance and versatility offered by the N5500, and in the end, they decided to give it their Best Choice Award, saying that "The Thecus N5500 is undoubtedly a very good choice."
With the inclusion of DriveClone5 Pro, the N5500 is a very complete package: "Along with the Thecus N5500 is another disk that contains the program DriveClone5 Pro. This software makes performing backup very easy… It not only allows backups, but clones of whole units in any sense, besides being able to restore everything when we want."
The N5500 performs well, but only sips power: "When accessing the disks, the Thecus N5500 is fast in all cases, and it is always well chilled. It has the usual power consumption (42W active and 30W at rest, bearing in mind that we installed two 160 GB disks each) for these devices."
The conclusion from Noticias3D: "The Thecus N5500 NAS is incredibly great. It has lots of features, which is something you really appreciate. What's more, you can always add additional modules by firmware upgrade…If we have a lot of data to manage, the Thecus N5500 is undoubtedly a very good choice."
Advantages:
· Huge amount of options
· Manage up to 5 disks
· Front panel that displays all kinds of information
· Connectivity: USB, eSATA ...
For the full review, check out:
http://www.noticias3d.com/articulo.asp?idarticulo=1272
For more information on the N5500, check out: http://www.thecus.com/products_over.php?cid=11&pid=143
---
About Thecus
®
Thecus® Technology Corp. specializes in IP Storage Server solutions, including Network Attached Storage (
NAS
) , DAS, External Storage and Wireless Media
NAS
(Bank ) products. The company was established in 2004 with the mission to make technology as transparent and easy-to-use as possible, and to make products that are not only the best on the market, but are accessible to experts and novices alike. With a best-in-class R&D team highly experienced in storage hardware and Linux software and with a keen customer focus, Thecus® stays close to the market to develop high-quality products to fulfill the storage Server needs of today's world.
For sales inquiries, please contact us via email:
sales@thecus.com
For marketing inquiries, please contact us via email:
marketing@thecus.com